Strategic Acceleration
: Succeed at the Speed of Life
Tony Jeary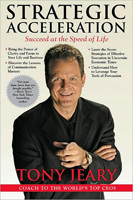 Format:
Hardcover, 304pp.
ISBN:
9781593155018
Publisher:
Vanguard Press
Pub. Date:
March 3, 2009
Average Customer Review:

For Bulk Orders Call: 626-441-2024

Description and Reviews
From
The Publisher:
In today's ultra-competitive, breakneck world, getting superior results at the fastest rate possible is critical to success. But the hectic speed of life can make it easy to become sidetracked by things that cloud our sense of priority, making us less effective. Strategic Acceleration: Succeed at the Speed of Life presents a methodology that will help you get clear, stay focused, and efficiently execute relevant, high-value activities that bring you the results and success you want—faster.
Tony Jeary's
Strategic Acceleration
method resulted from his obsession with studying distinctions that characterize top-performing high-achievers and organizations. From his study, Tony discovered and proved that the foundational characteristic of great performers was their ability to communicate their vision clearly and to perfectly translate their vision into action. Tony labels this distinction Communication Mastery, and it is the basis for his Strategic Acceleration Process. Whether you are a manager, an executive, an entrepreneur, a business developer, a sales team member, a management group, an organization, or anything in between,
Strategic Acceleration
is guaranteed to help you achieve what you want, when you want it.
The Strategic Acceleration approach is based on three pivotal concepts:
1. Clarity:
• Understand your targets and the "why" behind reaching them;
2. Focus:
• Concentrate on what really matters and filter out what does not;
3. Execution:
• Use effective communication to get things accomplished—faster!
Strategic Acceleration
will help you develop a clear vision, outline priorities and objectives, and tackle goals with a true sense of urgency and focus. Once understood and deployed, Strategic Acceleration is sure to have a powerful, long-term, positive influence on the results and success that so many want yet rarely know how to achieve.

Reviews
"...Strategic Acceleration will help you cultivate an attitude of willingness, embrace change, clarify your vision and focus, and deliver results...."
—Stephen M. R. Covey, New York Times bestselling author of The Speed of Trust
"This book will impact the way you think about results and the way you go about achieving them...."
—Zig Ziglar, New York Times bestselling author of See You at the Top
"Whether you are in sales or are the CEO of a billion-dollar corporation, let Tony Jeary be your personal coach."
—Mark Victor Hansen, bestselling author of Chicken Soup for the Soul
"This book gives you powerful tools and techniques for thinking and action that will enable you to get more done, faster and easier than you ever thought possible."
—Brian Tracy, bestselling author of Reinvention
"Success is something I've studied for many years. What Tony shares in Strategic Acceleration about clarity, focus and execution is extremely valuable for anyone wanting to excel."
—Darren Hardy, Publisher, SUCCESS Magazine
"Over the years I have learned that it takes both a certain mindset as well as living by real success principles to achieve great things. Let Tony Jeary share his insights with you."
—Ken Blanchard, Co-author of The One Minute Manager

About the Author
Tony Jeary
has been and continues to be the coach to the world's top CEOs and high achievers for more than 20 years. His clients include the Presidents of Wal-Mart, Firestone, Shell, Samsung, New York Life, and the United States Senate, to name only a few. An advisor to many, Tony Jeary has invested his life and career in helping others discover new clarity for their vision, develop focus on direction, and create powerful execution strategies that strategically impact achievement and results. Tony is happily married and blessed with 2 great daughters.

Find Items On Similar Subjects

What Got You Here Won't Get You There
: How Successful People Become Even More Successful