Think Simple
: How Smart Leaders Defeat Complexity
Ken Segall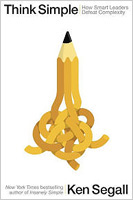 Format:
Hardcover, 256pp.
ISBN:
9781591847502
Publisher:
Portfolio
Publication Date:
June 7, 2016
Average Customer Review:
For Bulk Orders Call: 626-441-2024

Description and Reviews
From
The Publisher:
Simplicity is arguably the most potent weapon in business—attracting customers, motivating employees, helping outthink competitors, and creating new efficiencies. Yet rarely is it as simple as it looks.
Ken Segall's first book, Insanely Simple, was based on observations gained from twelve years working as Steve Jobs's advertising agency creative director, first with NeXT and then with Apple. He saw firsthand that Jobs looked at everything through the lens of simplicity. His obsession with simplicity was not just visible in Apple's products. You could see it in the way the company organized, innovated, advertised, sold at retail, and provided customer service.
In practice, simplicity was Jobs's most powerful business weapon. It helped Apple distinguish its products and create entirely new product categories, and it put distance between Apple and its competitors. But, while Apple is a terrific example of a company that has been propelled by the power of simplicity, it is hardly alone. Inspired by the ways Apple has benefited from the power of simplicity, Segall set out to find other companies that were traveling this path. He wanted to learn more about the thinking of their leaders. He felt that if he could chronicle the experiences of those who have successfully simplified, it would be an invaluable guide for everyone who would like to do the same.
This book is the result of his journey into simplicity in companies around the world.
Many of the "heroes of simplicity" profiled in this book are probably not on your list of usual suspects. Segall had conversations with over forty men and women from a wide range of industries, in companies big and small, established and up-and-coming, famous and below under the radar.
Each leader has a fascinating point of view about how simplicity has helped improve his or her company and set it apart from competitors. Each is unique, yet, as you'll find, many display interesting similarities.
From Jerry Greenfield, you'll hear how Ben & Jerry's grew from local to global without losing its focus and simple values. From the CEO of one of Australia's biggest banks, you'll hear how simplicity is attracting new customers. From former Apple Senior Vice President Ron Johnson, you'll hear how a simple idea aligned the team creating the worldwide network of Apple Stores.
You'll discover how simplicity influences the CEOs of The Container Store and Whole Foods. You'll get insights on simplification from the worlds of fashion, automobiles, entertainment, and technology. You'll even get inside the blue heads of the Blue Man Group, who developed a business strategy to defeat complexity before it could take root.
No principle is more important for businesses today than simplicity. In this insightful and often surprising book, you will learn how to harness the power of simplicity to build lasting, profitable organizations.

Reviews
"Steve Jobs's favorite communicator has created a must-read manual for anyone interested in simplifying their way to success. Ken Segall gathers the best advice from industries and leaders around the globe, and combines it with his own experience on a rocket ride with Apple from life support to world domination."
—Steve Hayden, Vice Chairman, Ogilvy & Mather (Retired)
"Ken Segall shows how simplicity in a product requires simplicity as embodied in the company that makes the product. He explains, with countless examples, that when a company's mission, vision, and values embrace simplicity, the result is a successful company that can produce higher quality outcomes with less bureaucracy and mediocrity."
—John Maeda, Partner, Kleiner Perkins Caufield & Byers and author of The Laws of Simplicity
"How do you appeal to customers when the competition can do virtually the same job? Having the right answer to this question is a matter of brand life or death. Fortunately for us, Segall's practical book gives us exactly the insights we need to succeed in a complicated world."
—Nir Eyal, author of Hooked
"Think Simple is, well, simply stunning! Almost every company makes almost everything unnecessarily complicated and complex and, eventually, bad stuff happens. Segall shows you – step-by-step - how to avoid having this happen to you and your business. An absolutely brilliant book. I endorse every word."
—Jason Jennings, author of The Reinventors, Think BIG-Act Small and The High Speed Company

About the Author
Ken Segall
is the author of the New York Times bestseller Insanely Simple. Working with Steve Jobs as his ad agency creative director for twelve years spanning NeXT and Apple, he led the team behind Apple's legendary Think different campaign, and set Apple down the i-way by naming the iMac. Segall has also served as agency global creative director for IBM, Intel, Dell, and BMW. He is an international speaker on the power of simplicity, and frequently appears on cable and Internet news for his marketing insights.