The Obstacle Is the Way
: The Timeless Art of Turning Trials into Triumph
Ryan Holiday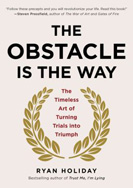 Format:
Hardcover, 224pp.
ISBN:
9781591846352
Publisher:
Portfolio Hardcover
Pub. Date:
May 1, 2014
Average Customer Review:

For Bulk Orders Call: 626-441-2024

Description and Reviews
From
The Publisher:
"The impediment to action advances action. What stands in the way becomes the way." — Marcus Aurelius
We are stuck, stymied, frustrated. But it needn't be this way. There is a formula for success that's been followed by the icons of history—from John D. Rockefeller to Amelia Earhart to Ulysses S. Grant to Steve Jobs—a formula that let them turn obstacles into opportunities. Faced with impossible situations, they found the astounding triumphs we all seek.
These men and women were not exceptionally brilliant, lucky, or gifted. Their success came from timeless philosophical principles laid down by a Roman emperor who struggled to articulate a method for excellence in any and all situations.
This book reveals that formula for the first time—and shows us how we can turn our own adversity into advantage.

Reviews
"Follow these precepts and you will revolutionize your life. Read this book!"
—Steven Pressfield, author of The War of Art and Gates of Fire
"A book for the bedside of every future—and current—leader in the world."
—Robert Greene, author of The 48 Laws of Power and Mastery
"An absolute must-read."
—Jimmy Soni, managing editor of Huffington Post, author of Rome's Last Citizen
"First came Marcus Aurelius, then Frederick the Great . . . and now there's you. This surprising book shows you how to craft a life of wonder by embracing obstacles and challenges."
—Chris Guillebeau, author of The $100 Startup
"In this tight, engaging book, Ryan Holiday shines a bright, powerful light on the path to living and leading well. Read it, learn from it, and get cracking!"
—Nancy F. Koehn, historian and leadership expert, Harvard Business School
"My life has been beset with obstacles. It takes practice (and pain) to surmount them and achieve success. Ryan's book is a how-to guide for just that."
—James Altucher, investor and author of Choose Yourself
"Ryan Holiday has written a brilliant and engaging book, well beyond his years. . . . It is invaluable."
—Honorable Frederic Block, Judge, U.S. District Court

About the Author
Ryan Holiday
is a media strategist and prominent writer on strategy and business. After dropping out of college at nineteen to apprentice under Robert Greene, author of The 48 Laws of Power, he went on to advise many bestselling authors and multiplatinum musicians. He served as director of marketing at American Apparel for many years, where his campaigns have been used as case studies by Twitter, YouTube, and Google and written about in AdAge, the New York Times, and Fast Company. His first book,
Trust Me I'm Lying: Confessions of a Media Manipulator
—which the Financial Times called an "astonishing, disturbing book"—was a debut bestseller and is now taught in colleges around the world. He currently lives in Austin, Texas, and writes at RyanHoliday.net and Thought Catalog and for the New York Observer.