Springboard
: Launching Your Personal Search for Success
G. Richard Shell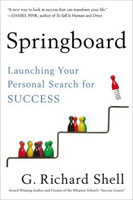 Format:
Paperback, 320pp.
ISBN:
9781591847007
Publisher:
Portfolio
Pub. Date:
April 29, 2014
Average Customer Review:

For Bulk Orders Call: 626-441-2024

Description and Reviews
From
The Publisher:
Everyone knows that you are supposed to "follow your dream." But where is the road map to help you discover what that dream is?
You have just found it. In
Springboard
, award-winning author and teacher G. Richard Shell helps you find your future. His advice: Take an honest look inside and then answer two questions:
What, for me, is success?
How will I achieve it?
You will begin by assessing your current beliefs about success, including the hidden influences of family, media, and culture. These are where the pressures to live "someone else's life" come from. Once you gain perspective on these outside forces, you will be ready to look inside at your unique combination of passions and capabilities. The goal: to focus more on what gives meaning and excitement to your life and less on what you are "supposed" to want.
Drawing on his decades of research, Shell offers personalized assessments to help you probe your past, imagine your future, and measure your strengths. He then combines these with the latest scientific insights on everything from self-confidence and happiness to relationships and careers. Throughout, he shares inspiring examples of people who found what they were meant to do by embracing their own true measure of success.
Eric Adler: one of Shell's former students who walked away from a conventional business career to help launch a revolutionary new concept in public education that has placed hundreds of inner-city high school students in top colleges.
Kurt Timken: a Harvard-educated son of a Fortune 500 CEO who found his true calling as a hard-charging police officer fighting drug lords in southern California.
Cynthia Stafford: an office worker who became one of her community's leading promoters of theater and the arts.
Get ready for the journey of a lifetime—one that will help you reevaluate your future and envision success on your own terms. Students and executives say that Richard Shell's courses have changed their lives. Let this book change yours.

About the Author
G. Richard Shell
is the Thomas Gerrity Professor of Legal Studies, Business Ethics, and Management at the Wharton School. The creator of Wharton's popular "Success Course ," his previous books include the award-winning Bargaining for Advantage: Negotiation Strategies for Reasonable People and, with Mario Moussa, The Art of Woo: Using Strategic Persuasion to Sell Your Ideas. He lives with his family near Philadelphia.

Find Items On Similar Subjects

Breakthrough