Shake the World
: It's Not About Finding a Job, It's About Creating a Life
James Marshall Reilly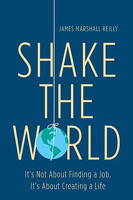 Format:
Hardcover, 288pp.
ISBN:
9781591844556
Publisher:
Portfolio Hardcover
Pub. Date:
December 29, 2011
Average Customer Review:

For Bulk Orders Call: 626-441-2024

Description and Reviews
From
The Publisher:
James Marshall Reilly set out to capture the insights of today's brightest business and nonprofit leaders. He conducted in-depth interviews with Tony Hsieh (Zappos), Blake Mycoskie (TOMS), Shawn Fanning (Napster, Rupture, Path), and Jessica Jackley (Kiva, ProFounder), among many others. And he learned that despite their different fields, they're all using similar tools to seize opportunities and redefine success. Embracing a shift in generational values, these young people share a passion for driving powerful global change while creating sustainable organizations that often blur the old boundaries between business and philanthropy.
To really "make it" these days, according to Reilly, you need to break the old corporate mold, ignore the "rules," and create your own opportunities. The true game changers are the men and women starting their own businesses, inventing jobs that didn't previously exist, and committing themselves fully to attaining astonishing success, however individually defined.
Shake the World reveals the meteoric rise (and the occasional stumbles) of a new generation of business leaders. Reilly brings their stories to life and, along the way, offers clear lessons that you can apply to your own pursuits. For example, you'll learn firsthand how:
Doug Ulman followed his passions to become CEO of LIVESTRONG.
Blake Mycoskie of TOMS responded to ordinary events in an extraordinary way and created a sustainable organization that changed the face of giving and the lives of millions.
Bobby Chang used counterintuitive thinking to build the global brand Incase and applies the same techniques to problem solving in everyday life.
Jessica Jackley of Kiva and ProFounder harnessed technology in unprecedented ways to build a powerful network and enact palpable, transformational change.
Elizabeth Gore took a small risk during college that altered the trajectory of her life and ultimately led her to become the executive director of global partnerships at the UN Foundation.
The role models in
Shake the World
define themselves not by money and title but by fulfillment and happiness. This book will light your path to greatness if you too want to shake the world. This is not just a book about finding a job. It's a book about creating an inspired life.

Reviews
"At Zappos, one of our core values is to 'Embrace and Drive Change.' This book is for anyone interested in inspiring their own life to change for the better, both personally and professionally!"
—Tony Hsieh, NY Times bestselling author of Delivering Happiness and CEO of Zappos.com, Inc.
"A new generation wants work to be about far more than making money - they want their jobs to make a positive difference to the world. James Marshall Reilly has written a compelling and optimistic first-hand account of what it means to put this excellent goal into practice."
—Matthew Bishop, New York Bureau Chief of The Economist and co- author, Philanthrocapitalism: How Giving Can Save the World
"Reilly is part of a cohort of young entrepreneurial leaders who will change this country over the next few years. Their fascinating stories and his insights will inspire and guide you as you invent your career and life while making a BIG difference."
—Peter Sims, author of Little Bets and cofounder and director of FUSEcorps
"Charity: water was founded out of a desire to inspire a new generation of givers to solve the water crisis. In this book, Reilly introduces you to many of our friends who had the fearlessness to break the mold, and think incredibly big. Prepare to be inspired, and then to act!"
—Scott Harrison, founder and ceo of charity: water
"In this ever complex, dynamic and demanding world everyone needs to design their lives and James Marshall Reilly shows how. If you want a principled, consequential and successful life, read this book."
—Don Tapscott author of Macrowikinomics: Rebooting Business and the World
"This book shifts the mindset for anyone who reads it. Define your own success and then do what the best have already done to achieve it. Reilly has uncovered the secrets of the most hyper successful people of this generation. If you internalize their lessons you will accelerate the rate at which you achieve the success goals you have for yourself."
—Cameron Herold author, Double Double and Former COO 1-800-GOT- JUNK?
"A powerful blend of inspiration and action, Shake the World offers a life and career plan hand-crafted for the new millennium. Read this book, then head out to set the world on fire."
—Jonathan Fields, Author of Uncertainty
"Forget triple bottom line companies, James Marshall Reilly documents triple-bottom line individuals-a cadre of brilliant business adventurers devoted to building a better world and-just as importantly- finding a better way to live in that world. With great storytelling and penetrating insight, Shake the World adds an entrepreneurial twist to the quest for the meaning of life."
—Steven Kotler, author of Abundance, A Small, Furry Prayer and West of Jesus
"Take risks. Think bigger than you dare. Above all, embrace your deepest passions. James Marshall Reilly's profound message isn't just for young people - it will lead you and me and everyone to richer lives."
—Geoff Colvin, author of Talent Is Overrated: What Really Separates World-Class Performers From Everybody Else

About the Author
James Marshall Reilly
is an entrepreneur, a journalist, and the founder of The Guild Agency Speakers Bureau and Intellectual Talent Management. His expertise lies in the branding and marketing of cutting- edge thinkers and connecting them with audiences worldwide. He is twenty- nine years old and lives in New York City.