World Changers
: 25 Entrepreneurs Who Changed Business as We Knew It
John A. Byrne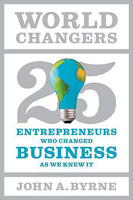 Format:
Hardcover, 256pp.
ISBN:
9781591844501
Publisher:
Portfolio Hardcover
Pub. Date:
December 8, 2011
Average Customer Review:

For Bulk Orders Call: 626-441-2024

Description and Reviews
From
The Publisher:
What if you could sit down with some of the world's most influential entrepreneurs and gain their knowledge and insights on how to create a game changing business?
Imagine having the chance to listen to a John Mackey (Whole Foods) or a Fred Smith (FedEx) on the most important things they've learned from their experiences. Or having the benefit of the self-reflection of Howard Schultz of Starbucks, who had to come back to the company he originally built to reinvent it and himself?
Of course it's not possible to deliver these rock star entrepreneurs to your dinner table. But John A. Byrne offers the next best thing: he spoke with many who have changed the face of business. In
World Changers
he captures the most important lessons they've learned, the biggest challenges they've tackled, and the most valuable advice they can offer others who have an entrepreneurial dream.
You'll learn the inspiring stories of how these world changers discovered their disruptive ideas, then made them a reality; overcame a variety of obstacles; and created sustainable enterprises. You'll get the firsthand accounts of how:
Bernie Marcus and Arthur Blank got the confidence to start The Home Depot after being fired from their jobs.
Reed Hastings turned a forty-dollar video late fee into a disruptive upstart called Netflix.
Herb Kohler, the "reluctant prince of porcelain," came back to the family business and made it number one in its industry again.
Narayana Murthy, after one fateful train ride and wrongful incarceration, converted from communist to capitalist and cofounded one of the most successful entrepreneurial ventures in India.
World Changers
is an inspiration for those who want to create something meaningful on their own. It serves as both a celebration of entrepreneurial achievement as well as a practical handbook for everyone who dreams of starting his or her own world-changing business.

About the Author
John A. Byrne
's distinguished magazine career included periods as executive editor of BusinessWeek, editor in chief of Fast Company, and associate editor at Forbes. He is now the founder of C-Change Media, a digital media company that is building a network of Web sites and blogs in business niches. He is the author or coauthor of eight previous books, including Jack: Straight from the Gut, with Jack Welch. He lives in Corte Madera, California.