Put Your Mindset to Work
: The One Asset You Really Need to Win and Keep the Job You Love
Paul G. Stoltz and James Reed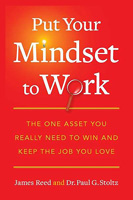 Format:
Paperback, 272pp.
ISBN:
9781591844082
Publisher:
Portfolio Trade
Pub. Date:
April 26, 2011
Average Customer Review:

For Bulk Orders Call: 626-441-2024

Description and Reviews
From
The Publisher:
What does it take to get and keep the job you want? Ninety-six percent of employers argue that it's not just about having the right skills for the position - it's all about the right mindset. As two leading experts on the subject, James Reed and Dr. Paul G. Stoltz know what employers really want from the people they hire - and keep. According to their extensive and globally acclaimed research, there is a specific set of mental traits that will make you exponentially more desirable to potential employers, and more likely to succeed and enjoy your job once you're hired. This '3G Mindset' is: Global - the openness and big-picture perspective to compete on a global scale in any job Good - a positive force with an unwavering moral compass Grit - the tenacity and resilience to thrive on adversity The authors reveal why employers are three times more likely to hire people with the right mindset over those who are more qualified on paper. This book provides a clear approach for both assessing and developing these essential '3G' traits.

About the Authors
James Reed
is the Chairman of Reed Global and the top U.K. authority on recruitment. He graduated from Oxford University in 1984 with a degree in Philosophy, Politics and Economics and subsequently gained an MBA from the Harvard Business School. He is a member of the UK Government's National Employment Partnership, which was set up in January 2009 to identify what more can be done to collectively help people and businesses cope with the downturn in the economy, and ensure they are well placed for the upturn. He also initiated the Keep Britain Working campaign, which aims to promote innovative ways to preserve and create jobs. He lives in London, with his wife and their six children.
Paul G. Stoltz, PhD
, is a leading authority on the science of mindset - assessing and strengthening human capacity, resilience and agility. He is the international bestselling author and creator of The Adversity Quotient. He lives in San Luis Obispo, California.

Find Items On Similar Subjects

The Adversity Advantage
: Turning Everyday Struggles into Everyday Greatness