The Professional
: Defining the New Standard of Excellence at Work
Subroto Bagchi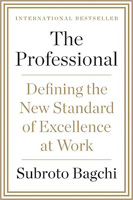 Format:
Hardcover, 256pp.
ISBN:
9781591844020
Publisher:
Portfolio Hardcover
Pub. Date:
June 30, 2011
Average Customer Review:

For Bulk Orders Call: 626-441-2024

Description and Reviews
From
The Publisher:
"In the new era, where every person's actions have the potential to have a global impact, we must redefine what it means to be a true professional."
By common definition, a professional is someone who possesses the skills and knowledge necessary to do a job-whether it's a top degree from a prestigious university or simply years of on-the-job training. For centuries, we have relied on this definition to help us determine who is capable and who is not, often assuming that the person with the most professional characteristics is the best one for the job.
But every day we see examples of so-called professionals who do more harm than good: a few irresponsible bankers whose get-rich-quick schemes led to a global financial meltdown; a once-respected hedge fund manager charged with running the world's largest Ponzi scheme and robbing his clients of billions; a team of executives siphoning funds from their employees pension plans...the list goes on. All of these people had the qualities necessary to do their jobs well, but instead they chose to abuse and corrupt their professions for their own personal gain.
So how can we weed out the best from the worst when the accepted standards are no longer enough, and when even the most powerful and respected among us cannot be trusted to behave responsibly or ethically?
According to businessman and bestselling author Subroto Bagchi, the first step is to redefine what it means to be a professional. Today, it takes more than just aptitude-it takes a commitment to doing what's right, not only for your business, but for society as a whole. In a world where patients, clients, and customers can no longer completely trust the advice given to them, The Professional outlines the explicit and implicit code of conduct.
By exploring a variety of professional dilemmas in a broad spectrum of industries-from law to medicine to finance-Bagchi asks and answers the toughest question every professional must face: Is what I am going to do now the truly professional choice? He also offers a set of criteria to guide your behavior. Among them:
Suffer no false attractions: It's always tempting, and often easy, to take the path of least resistance. But real professionals can separate what is genuine from what is too good to be true.
Know when to say no: The true professional is not afraid to say no to things that are not worth his time, his energy, or his creativity.
Have a long view of time: True professionals understand that every action, can have a lasting impact on their careers and reputations. That's why they treat every small interaction and engagement with the upmost importance.
The Professional
is a must read for anyone looking for a little clarity in an increasingly blurry world.

Reviews
In an era marked by corporate greed, job insecurity, and cultural confusion in global markets, what does it mean to be a professional? In spare, elegant essays, Bagchi (The High Performance Entrepreneur), vice chairman and cofounder of a global information technology powerhouse, MindTree Ltd., waxes on the baseline qualities that distinguish exceptional leaders and workers: the ability to work unsupervised, to certify the completion of a task, and to act with integrity at all times. Beyond these fundamentals are a long term, global view, and an ability to deal effectively with complexity and change. Concepts come to life through examples of real people at all levels in real companies across the globe: he illustrates how to balance private and professional lives with the story of how the former chairwoman of Thermax publicly handled the series of personal tragedies she was facing. He explores how individuals handle job changes and examines the futility of whining, acknowledging that while we may have very genuine problems at work, "when you whine about your workplace troubles, chances are two kinds of people listen: those who don't care and those who are happy that you are in trouble." An unexpectedly humorous and poignant primer to professional etiquette and purpose.
—Publishers Weekly

About the Author
Subroto Bagchi
is Vice Chairman and Co-founder of MindTree Ltd., a global information technology and research and development consulting company. His work involves co-innovating with MindTree's customers, tending the top 100 minds in the organization and serving its fifty communities of practice. He is also Chairman of MindTree's Innovation Council and writes a column for Forbes India in which he interviews successful entrepreneurs.