Walk the Walk
: The #1 Rule for Real Leaders
Alan Deutschman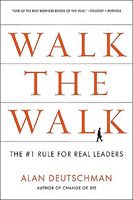 Format:
Paperback, 208pp.
ISBN:
9781591843665
Publisher:
Penguin Group
Pub. Date:
August 31, 2010
Average Customer Review:


For Bulk Orders Call: 626-441-2024

Description and Reviews
From
The Publisher:
True and inspiring stories of authentic leadership for tough times
Today's business landscape is mired with hypocrisy and false promises. Leaders need to practice what they preach — even if what they preach takes them into possibly uncharted and unorthodox territory. What if top executives were completely clear about their organizations' first virtues, and those virtues represented a real change from what nearly all of the business community had always practiced?
Walk the Walk
is a must-read for anyone who aspires to be a leader or to understand leadership. Author Alan Deutschman explains that leaders striving to create change can rely on only two tools: what they say and how they act. But in today's skeptical world, few of us will believe what they say, especially when they're pursuing audacious goals and challenging our deep-rooted beliefs and practices.
Walk the Walk
shows how aspiring leaders must inspire and teach us through their own actions. Deutschman's analysis is informed by his two-decades of experience as a journalist covering the most prominent business figures of our times. He portrays dramatic and illuminating examples of leadership - not only in business but also in politics, the military, education, and social change.
Leaders who actually walked the walk:
Martin Luther King, Jr., did plenty of inspiring talking, but he put his peaceful philosophy into action when he let a detractor literally beat him up in front of a crowded auditorium
Herb Kelleher and Colleen Barrett of Southwest Airlines decided to buck the trend in the airline industry by putting their employees first, and remain the only major airline to never have made layoffs (while still turning a profit, unlike their competitors).
Sony founder Masuro Ibuka valued originality over profits, delaying his company's release of a color TV set for years after the technology first hit the marketplace. When theTrinitron finally came out, it was a true breakthrough - and the bestselling set for the next twenty years.

Reviews
"A great read. Walk the Walk should be required reading for anyone who aspires to lead. Its message is simple: If you want to be a leader, you have to understand the impact of your actions. This book will force leaders to look in the mirror and decide that they need to walk the walk."
— Urban Meyer, Head Coach, two-time national champion University of Florida football team
"Walk the Walk is an inspiring, centering read. It grounds us all in the most important elements of leadership and challenges us to fulfill our potential in enlisting the commitment and energy of others."
— Wendy Kopp, CEO & Founder Teach For America
"Leaders and aspiring leaders should thank Alan Deutschman for this powerful message. Your words alone mean nothing. Your actions — and only your actions — speak. All successful leaders understand it, while failed leaders don't."
— Geoff Colvin, senior editor at large, Fortune Magazine, and author of Talent Is Overrated
"I always say that 'change' is a verb. It has to happen in action. You have to do it. That's the terrific lesson of Walk the Walk. This inspiring book looks at real leaders who've made themselves a part of the change — and the extraordinary results they've achieved."
— Mimi Silbert, CEO Delancey Street Foundation
"With riveting stories of leaders from every sector, Walk the Walk serves as a reminder that business, at its best, is a moral enterprise. This book will give support to leaders who want to do the right thing and do well in the process."
—Carla O'Dell, president, APQC, and co-author of If We Only Knew What We Know

About the Author
Alan Deutschman
's widely acclaimed Change or Die debunked our myths about this crucial topic and revealed the surprising truths about what actually inspires and motivates real change. He has been the Silicon Valley correspondent for Fortune, a senior writer at Fast Company, a senior writer and columnist at GQ, and a contributing editor at Vanity Fair and New York. His articles have appeared in the New York Times Magazine, Wired, and Salon. He is also the former executive director of Unboundary, a consulting firm with clients including FedEx, Charles Schwab, and Coca-Cola. He gives speeches about change at leadership conferences.

Find Items On Similar Subjects

WALK THE TALK
... And Get The Results You Want

Change or Die
: The Three Keys to Change at Work and in Life