Work Like a Spy
: Business Tips from a Former CIA Officer
J. C. Carleson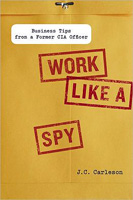 Format:
Hardcover, 204pp.
ISBN:
9781591843535
Publisher:
Portfolio Hardcover
Pub. Date:
February 7, 2013
Average Customer Review:

For Bulk Orders Call: 626-441-2024

Description and Reviews
From
The Publisher:
"The book you are holding will fundamentally change the way you look at the collection, compartmentalization, analysis, distribution, application, and protection of intelligence in your business. J. C. Carleson's presentation of years of spy tradecraft will make you a more effective force within your organization."
—James Childers, CEO, ASG Global, Inc.
When J. C. Carleson left the corporate world to join the CIA, she expected an adventure, and she found it. Her assignments included work in Iraq as part of a weapons of mass destruction search team, travels throughout Afghanistan, and clandestine encounters with foreign agents around the globe. What she didn't expect was that the skills she acquired from the CIA would be directly applicable to the private sector.
It turns out that corporate America can learn a lot from spies—not only how to respond to crises but also how to achieve operational excellence. Carleson found that the CIA gave her an increased understanding of human nature, new techniques for eliciting informa­tion, and improved awareness of potential security problems, adding up to a powerful edge in business.
Using real examples from her experiences, Carleson explains how working like a spy can teach you the principles of:
Targeting—figuring out who you need to know and how to get to them
Elicitation—a subtle way to get the answers you need without even asking a question
Counterintelligence—how to determine if your organization is unwittingly leaking information
Screening—CIA recruiters' methods for finding and hiring the right people
The methods developed by the CIA are all about getting what you want from other people. In a business context, these techniques apply to seeking a new job, a promotion, a big sale, an advantageous regulatory ruling, and countless other situations.
As Carleson writes, "In a world where infor­mation has a price, it pays to be vigilant." Her book will show you how.

Reviews
"I found Work Like a Spy to be much more than a compelling read penned by an ex-CIA officer. J. C. Carleson importantly offers a fresh slate of easily understood risk mitigation practices and exercises."
—FRANCIS D'ADDARIO, CPP CFE, Emeritus Faculty Leader, Strategic Influence and Innovation, Security Executive Council
"This is a blast! J. C. Carleson has written the cure for the common business book. Part business advice book, part memoir, part window into the world of covert intelligence, it will both inform and intrigue the reader. Going beyond the typical business anecdotes, Carleson gives us a glimpse of the world of covert officers, international intrigue, and true high stakes encounters. More than just telling stories, though, Work Like a Spy uses examples from the CIA to provide a set of principles that can be used to succeed in any organization."
—ALEXANDER J. S. COLVIN, Professor of Labor Relations and Conflict Resolution, ILR School, Cornell University
"Carleson provides a compelling argument for the importance of intelligence and counterintelligence in day-to-day business. Her straightforward sugges­tions encourage the reader to always be on guard for information—either to keep it or to gather it."
—DEB COHEN, Ph.D., SPHR, SVP, Knowledge Development, Society for Human Resource Management

About the Author
J. C. Carleson
worked for Starbucks (corpo­rate), Baxter International, and Tektronix prior to leaving the private sector to enter the Central Intelligence Agency's clandestine service. She was an undercover CIA officer for eight years.