The Personal MBA
: Master the Art of Business
Josh Kaufman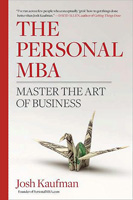 Format:
Hardcover, 416pp.
ISBN:
9781591843528
Publisher:
Portfolio Hardcover
Pub. Date:
December 30, 2010
Average Customer Review:

For Bulk Orders Call: 626-441-2024

Description and Reviews
From
The Publisher:
A world-class business education in a single volume.
Getting an MBA is an expensive choice-one almost impossible to justify regardless of the state of the economy. Even the elite schools like Harvard and Wharton offer outdated, assembly-line programs that teach you more about PowerPoint presentations and unnecessary financial models than what it takes to run a real business. You can get better results (and save hundreds of thousands of dollars) by skipping B-school altogether.
Josh Kaufman founded PersonalMBA.com as an alternative to the business school boondoggle. His blog has introduced hundreds of thousands of readers to the best business books and most powerful business concepts of all time. Now, he shares the essentials of entrepreneurship, marketing, sales, negotiation, operations, productivity, systems design, and much more, in one comprehensive volume.
The Personal MBA
distills the most valuable business lessons into simple, memorable mental models that can be applied to real-world challenges.
The Personal MBA explains concepts such as:
The Iron Law of the Market: Why every business is limited by the size and quality of the market it attempts to serve-and how to find large, hungry markets.
The 12 Forms of Value: Products and services are only two of the twelve ways you can create value for your customers.
The Pricing Uncertainty Principle: All prices are malleable. Raising your prices is the best way to dramatically increase profitability-if you know how to support the price you're asking.
4 Methods to Increase Revenue: There are only four ways a business can bring in more money. Do you know what they are?
True leaders aren't made by business schools-they make themselves, seeking out the knowledge, skills, and experience they need to succeed. Read this book and you will learn the principles it takes most business professionals a lifetime of trial and error to master.

Reviews
"I've run across few people who conceptually 'grok' how to get things done better than Josh Kaufman."
—David Allen, author of Getting Things Done
"File this book under NO EXCUSES. After you've read it, you won't be open to people telling you that you're not smart enough, not insightful enough, or not learned enough to do work that matters. Josh takes you on a worthwhile tour of the key ideas in business."
—Seth Godin, author of Linchpin
"No matter what they tell you, an MBA is not essential. If you combine reading this book with actually trying stuff, you'll be far ahead in the business game."
—Kevin Kelly, founding executive editor, Wired, and author of What Technology Wants
"A creative, breakthrough approach to business education. I have an MBA from a top business school, and this book helped me understand business in a whole new way."
—Ali Safa vi, executive director of international sales and distribution, The Walt Disney Company
"An absolutely amazing book! I'm highly recommending this to all creative types, for the best overview of the modern business mind-set they need."
—Derek Sivers, founder, CD Baby, sivers.org
"Josh has synthesized the most important topics in business into a book that truly lives up to its title. It's rare to find complicated concepts explained with such clarity. Highly recommended."
—Ben Casnocha, author of My Start-Up Life
"An enterprising and thrifty way to hack business school. This is a fantastic resource for motivated autodidacts looking to get into business."
—Gina Trapani, founding editor, Lifehacker.com, and author of Upgrade Your Life

About the Author
Josh Kaufman
is an independent business educator who helps people develop their business skills, start new ventures, and get ahead in their fields. Before creating PersonalMBA.com, he worked for Procter & Gamble, where he launched major new products and developed P&G's global online marketing measurement strategy. He lives in Colorado.