The Wisdom of Bees
: What the Hive Can Teach Business about Leadership, Efficiency, and Growth
Michael O'Malley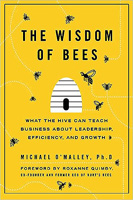 Format:
Hardcover, 240pp.
ISBN:
9781591843269
Publisher:
Portfolio Hardcover
Pub. Date:
May 13, 2010
Average Customer Review:

For Bulk Orders Call: 626-441-2024

Description and Reviews
From
The Publisher:
"It seemed to me that the bees were working on the very same kinds of problems we are trying to solve. How can large, diverse groups work together harmoniously and productively? Perhaps we could take what the bees do so well and apply it to our institutions."
When Michael O'Malley first took up beekeeping, he thought it would be a nice hobby to share with his ten-year-old son. But as he started to observe these industrious insects, he noticed that they do a lot more than just make honey. Bees not only work together to achieve a common goal but, in the process, create a highly coordinated, efficient, and remarkably productive organization. The hive behaved like a miniature but incredibly successful business.
O'Malley also realized that bees can actually teach managers a lot about how to run their organizations. He identified twenty-five powerful insights, such as:
Distribute authority: the queen bee delegates relentlessly, and worker bees make daily decisions based on local cues and requirements.
Keep it simple: bees exchange only relevant information, operate under clear standards, and use straightforward measures and feedback to guide their actions.
Protect the future: when a lucrative vein of nectar is discovered, the entire colony doesn't rush off to mine it, no matter how enriching the short- term benefits
Blending practical advice with interesting facts about the hive,
The Wisdom of Bees
is a useful and entertaining guide for any manager looking to get the most out of his or her organization.

Reviews
"After you read this book, I assure you that you will never think about your organization in quite the same way."
—Roxanne Quimby, cofounder and former CEO, Burt's Bees (from the foreword)
"O'Malley brings to life timeless principles of organizational success in a mind-opening, insightful, and compelling way by examining the life of bees. That may sound like a stretch, but it won't after you read this plainspoken, well- written book."
—John Pepper, former CEO and chairman, Procter & Gamble
"What in the world can we learn from a honeybee colony that would provide any useful knowledge for how to run-or, better yet, change for the better-a human organization? Read this remarkable book and you will see."
—W. Warner Burke, chair, Department of Organization and Leadership, Columbia University
"Unlike many business books, this guide, inspired by Michael O'Malley's observations of his backyard beehive, is filled with substance and uncommon sense. I have benefitted from O'Malley's guidance for years, and, with this book, everyone else now can, too."
—Mark Jacobsen, president and CEO, Promontory Interfinancial Network, LLC
"Not only a fascinating look into the world of bees, but also an excellent operating guide for good management. Who wouldn't want a company as organized and productive as a beehive? This book explains how."
—Phil Johnson, CEO, PJA Advertising + Marketing
"Humanity is fortunate that Michael O'Malley became a beekeeper. He beautifully presents twenty-five lessons that we humans can, and really should, learn from the bees about working together for group success."
—Thomas D. Seeley, professor of biology, Cornell University

About the Author
Michael O'Malley, Ph.D.
, is a social psychologist and management consultant who has coached some of the world's largest companies. He is currently the executive editor for business, economics, and law at Yale University Press and an adjunct professor at Columbia Business School. He has been an avid beekeeper since 2002. He lives in New Haven, Connecticut.