The Upside of the Downturn
: Ten Management Strategies to Prevail in the Recession and Thrive in the Aftermath
Geoff Colvin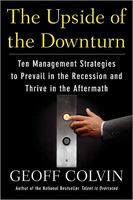 Format:
Hardcover, 192pp.
ISBN:
9781591842965
Publisher:
Portfolio Hardcover
Pub. Date:
June 25, 2009
Average Customer Review:


For Bulk Orders Call: 626-441-2024

Description and Reviews
From
The Publisher:
Some businesses - and some people - will emerge from this downturn stronger and more dominant than when it started. Others will weaken and fade. It all depends on critical choices they make right now.
Geoff Colvin, one of America's most respected business journalists, says even the scariest recession has an upside. The best managers know conventional thinking won't help them win in these tough times. They're taking smart, practical steps that will not only keep them strong, but will also distance them from the pack for years to come.
The dozens of top-performing leaders Colvin interviewed reject the common view that slashing costs and firing employees are all that matter. They see the recession as a rich opportunity to reinvent their organizations and lay the groundwork for future growth.
Colvin's ten solidly grounded strategies will increase your company's competitiveness and build its long-term value. A sample:
Reset priorities. Easy to say, harder to do. Pursuing the lofty goals set in good times can be disastrous now.
Reevaluate people and steal some good ones. Mass layoffs are a tempting way to cut costs, but great companies often find smarter alternatives. And if your competitors are dumb enough to fire their best people, grab them.
Keep investing in the core. Trim the fat from your budgets but not the muscle. The best companies actually increase some spending in a recession, funding the areas that make them unique and valuable.
Don't rush to cut prices. Many companies assume they must - yet the long-term damage often outweighs the short-term boost.
Colvin shows how these strategies really work, using examples ofmajor companies that have applied them with inspiring results.


Reader's Index
Send us your favorite quotes or passages from this book
.
• "Scientific research on great performance has shown persuasively that high abilities of all kinds are developed; they don't occur naturally. The question of whether great leaders are born or made is settled: they're made. The key to this development is pushing yourself—or being pushed—just beyond your current abilities, forcing yourself to do things you can't quite do." Pg. 8

About the Author
Geoff Colvin
, Fortune's senior editor at large, writes its popular column "Value Driven." He lectures widely and is the regular lead moderator for the Fortune Global Forum. He also offers daily business commentary on the CBS Radio Network. His first book,
Talent Is Overrated
, earned international acclaim and was a
Wall Street Journal, BusinessWeek
, and
New York Times
business bestseller.

Table of Contents
| | | |
| --- | --- | --- |
| | | |
| 1 | The Greatest Opportunity | 1 |
| 2 | The New Normal | 10 |
| 3 | Reset Priorities | 25 |
| 4 | Protect Your Most Valuable Asset | 41 |
| 5 | Engage the Outside World | 56 |
| 6 | Reexamine Your Strategy and Business Model | 72 |
| 7 | Manage for Value | 87 |
| 8 | Create New Solutions for Customers' New Problems | 100 |
| 9 | Price with Courage | 110 |
| 10 | Get Fitter Faster | 119 |
| 11 | Understand All Your Risks | 134 |
| 12 | Don't Forget to Grow Yourself | 148 |
| 13 | For Next Time | 164 |
| | | |
| | Index | 173 |

Find Items On Similar Subjects

The Snowball
: Warren Buffett and the Business of Life

Talent is Overrated
: What Really Separates World-Class Performers from Everybody Else