The Leap
: How 3 Simple Changes Can Propel Your Career from Good to Great
Rick Smith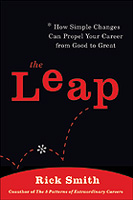 Format:
Hardcover, 224pp.
ISBN:
9781591842569
Publisher:
Portfolio Hardcover
Pub. Date:
September 17, 2009
Average Customer Review:

For Bulk Orders Call: 626-441-2024

Description and Reviews
From
The Publisher:
STUCK IN A RUT?
RICK SMITH'S THE LEAP SMASHES TRADITIONAL CONCEPTS ABOUT THE PATH TO CAREER SUCCESS AND PERSONAL FULFILLMENT
Bestselling Author And Career Expert Shows Everyday People How To Tap Their Strengths And Engage Their Passions To Unlock Their Greatest Potential
Can ordinary, everyday people stuck in the daily grind make a leap to surprising new heights of career success and personal fulfillment? "Yes," says bestselling author, entrepreneur, and career expert Rick Smith. In his groundbreaking book,
The Leap: How 3 Simple Changes Can Propel Your Career From Good To Great
, Smith shatters the myths that keep millions trapped in their okay-but-average lives. He presents three powerful, yet simple steps to help readers break the chains that hold them back and shows how to make their ideal lives a reality.
Smith, himself, turned an ordinary career into an extraordinary one. At one point, he was an average, out-of-work professional who eventually became a globally successful entrepreneur and co-author of the bestselling book, The 5 Patterns of Extraordinary Careers. "How the heck did this happen to me," he wondered. "And how have other people, who may not have been gifted with special talents or drive from an early age, make their own leaps to success? What helped these extraordinary 'ordinary' people break loose, and what can others learn from them?"
Smith reveals the answers in
The Leap
. As part of his research, he interviewed hundreds of people in fields as varied as healthcare, retailing, community service, and fashion. He spoke with Sara Blakely, for example, to discover how she leapt from selling fax machines to creating SPANX, the most innovative women's undergarment company of the past fifty years. He talked with Silvia Lagnado, who launched the Dove Campaign for Real Beauty from a very ordinary seat far back in the Unilever corporate hierarchy, forever changing how her company and industry approach marketing. He spent time with Brad Margus, who went from shrimp farmer to world-renowned biotechnology pioneer in less than a decade. He also interviewed Frances Hesselbein, a former stay-at-home mom, who became executive director of the Girl Scouts of America and is now recognized as one of the world's most successful leaders.
What Smith discovered is both dramatic and counterintuitive – that people who turn dull careers into deeply fulfilling ones follow a similar path, shattering three common myths:
You Don't Need To Change Who You Are. Instead, match up what you do with what you love to do – your greatest strengths and passions.
You Don't Need To Go It Alone. Big, selfless, and simple ideas attract a supportive team and allow you to multiply your success every time.
You Don't Need To Take Dramatic Risks. The winners in the success game are those who stack the deck in their favor gradually, with little or no risk.
"These success stories," writes Smith, "are not cases of people who 'fixed' their weaknesses. Rather the people who made The Leap are the ones who became more completely themselves. They engaged a powerful team of supporters and they learned to mitigate, rather than take, risks."
Smith understands how daunting it can be to start the journey towards a meaningful career. In
The Leap
, he makes it easy by presenting an in-depth, step-by-step process that anyone can follow, including:
Finding Your Primary Color – By taking Smith's unique online self-assessment (developed over eight years with a leading industrial psychologist), readers will clarify their own unique intersection of their greatest strengths and greatest passions – comparing this "Primary Color" to their current and potential career directions. Everyone has a personal "sweet spot", but few ever find it or know it's there. This book and assessment will point you to it.
Bring It To Bear On An Idea That Is Big, Selfless, And Simple – All ideas are not created equal. Some are force multipliers: they have the power to engage others in your quest and assure that you do not leap alone. The Leap reveals why Big, Selfless, and Simple ideas are uniquely powerful, and how to take advantage of them.
Let The Spark Sequence Happen – To break from your current career and life trajectory, you do not have to live and act on the edge. Making your own Leap is about predictability, about assuring that whatever change you decide to make in your career, the odds are stacked in your favor. With Smith's Spark Sequence – Educate, Experiment, Experience – you can safely pave the way toward an exciting new future.
The Leap
is an amazing journey – filled with inspirational stories and wise advice. It is a call to readers to open themselves to new possibilities, to change their everyday trajectory, and to discover a future of great impact and joy. Having made The Leap himself, Rick Smith has created a book that encourages people to examine their lives, to set far reaching goals, and to achieve their wildest dreams.

Reviews
"Rick Smith goes from flat line to the front line of life and shows you how to ignite your career."
—Dr. Mehmet C. Oz, author, YOU: The Owner's Manual
"An inspiring book for anyone who has ever looked at his or her life and wondered: Is this it?
The Leap
will help you discover your true path to personal and professional success."
—Arianna Huffington, co-founder and editor-in-chief, The Huffington Post

About the Author
Rick Smith
is the founding CEO of World 50, cited as one of the most influential senior executive networking companies in the world. Members include C-level executives from more than 200 of the Fortune Global 500 companies. A leading commentator on careers and professional and personal success, Rick has been featured by more than 50 media outlets, including
CNN, Time, The Wall Street Journal, The Economist, The New York Times, Sirius Satellite Radio, Financial Times, Bloomberg, Forbes, Fortune
and
Chief Executive
. He currently lives in Atlanta, Georgia, with his wife Lori and their three children.