Revolution in a Bottle
: How TerraCycle is Redefining Green Business
Tom Szaky with a Forewod by Paul Hawken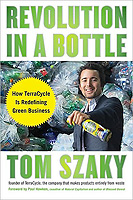 Format:
Paperback, 208pp.
ISBN:
9781591842507
Publisher:
Portfolio Trade
Pub. Date:
April 1, 2009
Average Customer Review:

For Bulk Orders Call: 626-441-2024

Description and Reviews
From
The Publisher:
The amazing story of what Inc. calls "The coolest little startup in America."
While a freshman at Princeton, Tom Szaky co-founded a company that recycles garbage into worm poop, liquefies it, then packages it in used soda bottles, creating TerraCycle Plant Food. Less than five years later, this all-natural, highly effective fertilizer was available in every Home Depot, Target, Wal-Mart, and more than 3000 other locations. It's a thrilling entrepreneurial success story—and it's just the beginning of what makes
Revolution in a Bottle
fascinating.
Szaky argues for a new approach to business, an "eco-capitalism" based on a "triple bottom line." Every business, he says, should aspire to be good for people, good for the environment, and (last but definitely not least) good for profits. He shows how the first two goals can (surprisingly) help the third.
Of course, eco-capitalism isn't a new idea, and many companies brag about being environmentally-friendly. But no one does it as effectively as TerraCycle. Szaky and his colleagues figured out how to sell a useful, organic, safe product without charging a premium for it. Their big insight was finding value in things that others throw away, from the triggers on spray-bottles to misprinted cardboard boxes.
Now they're also reusing garbage to create new products, from bird feeders to tote bags, and even engaging major companies like Kraft and General Mills to sponsor their waste streams. Szaky shows how any business can look at garbage with a fresh eye, and reap the benefits.
In the spirit of TerraCycle, this book will be printed on 100% recycled materials.

About the Author
Tom Szaky
, 26, is co-founder and CEO of TerraCycle, producer of the world's first products that are made entirely from and packaged entirely in waste. Born in Budapest and raised in Toronto, Szaky moved to the U.S. in 2001 to attend Princeton University, but left a year later to focus on his startup. TerraCycle, based in Trenton, New Jersey, now has annual sales of $8 million, sustained five-year growth of over 200% per year, and has been featured by hundreds of media outlets.