You Can't Order Change
: Lessons From the Turnaround at Boeing
Peter S. Cohan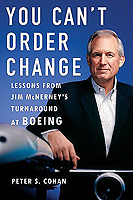 Format:
Hardcover, 256pp.
ISBN:
9781591842392
Publisher:
Portfolio Hardcover
Pub. Date:
January 2009
Average Customer Review:

For Bulk Orders Call: 626-441-2024

Description and Reviews
From
The Publisher:
The first book to explore the unique leadership style of Boeing's acclaimed CEO
Jim McNerney was one of Jack Welch's top protégés at General Electric and a finalist to replace the retiring Welch as CEO. McNerney lost that competition in 2001, but since then he has emerged as one of the most effective leaders of his generation.
You Can't Order Change
tells the amazing story of McNerney's turnaround at the world's leading aircraft manufacturer, which had faced a series of tough problems. Boeing is extremely hard to run, with more than $66 billion in annual revenue and 161,000 employees. A new product like the 787 Dreamliner costs billions to develop over many years, with global production hurdles and little margin for error.
Peter Cohan interviewed people who worked with McNerney throughout his career to explain why his consensus-driven style sets him apart. The title comes from a McNerney quote about the importance of winning hearts and minds with a clear vision of future success.
McNerney combines Midwestern integrity and humility with the brilliance and drive of a Harvard Business School and McKinsey alum. This book reveals his approach to accountability, growth, cost cutting, leadership development, customer focus, and other universal challenges.

Reviews
"There is no doubt that anybody who picks up this book will find plenty of useful insights for their work and organizations."
—LEN SCHLESINGER, president, Babson College, former vice chairman and COO, Limited Brands
"Peter S. Cohan has written an intensely focused leadership textbook that will last for a very long time. It happens to be about one person, but its lessons hold value for everyone."
—GEOFF COLVIN, Fortune columnist; author of Talent is Overrated
"Cohan possesses strong diagnostic skills and the keen writing talent required to present Jim McNerney's winning approach to a broader audience. He has illuminated McNerney's strategies to show any leader how to overcome the insurmountable."
—FRANK LAVIN, former U.S. Under Secretary of Commerce
"You Can't Order Change is a smart and thought-provoking profile of one of today's top CEOs. Cohan's book chronicles a new era of leadership and management."
—STUART CRAINER, editor of Business Strategy Review
"Peter Cohan's book gives a wonderful insight into the management techniques that Jim McNerney uses to allow managers and employees to realize their fullest potential. Companies big and small will benefit from the application of these principles."
—LAWRENCE K. FISH, chairman, Citizens Financial Group
"If you're a CEO, or hope to be one someday, this book can be an invaluable guide."
—KARYN McCORMACK, senior producer, BusinessWeek Online
"You Can't Order Change is a textbook on how to run a FORTUNE 500 company. An excellent read for anyone in business."
—PHIL BEEKMAN, former president and chief operating officer, Seagram Company, Ltd.

About the Author
Peter S. Cohan
is a management consultant and venture capitalist. He earned an MBA from Wharton and teaches strategy at Babson College. He also edits The Cohan Letter, a successful investment newsletter.