Why Work Sucks and How to Fix It
: No Schedules, No Meetings, No Joke--the Big Idea That's Already Transforming the Way We Work
Cali Ressler and Jody Thompson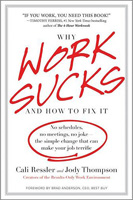 Format:
Paperback, 256pp.
ISBN:
9781591842927
Publisher:
Portfolio Hardcover
Pub. Date:
December 15, 2010
Average Customer Review:

For Bulk Orders Call: 626-441-2024

Description and Reviews
From
The Publisher:
Do you hate cramming all of your errands into the weekend?
Do you resent having to beg permission to watch your kid's weekday soccer game?
Are you tired of seeing people who aren't very good at their jobs get promoted because they arrive early and stay late?
There's got to be a better way—and there is! Cali Ressler and Jody Thompson show that everyone benefits when we change the focus from hours to outcomes. It's just that our traditional definition of work—Monday through Friday, nine to five—doesn't make sense in the always-on global economy.
So, Ressler and Thompson created the Results-Only Work Environment. In a ROWE, you control when, where, and how long you work. As long as you meet your objectives, the way you spend your time is entirely up to you.
Suddenly, work isn't a place you go, it's a thing you do. In a ROWE, there are no mandatory meetings or fixed schedules. You stop doing any activity that wastes time, and no one criticizes you for "leaving early" or "coming in late." If you do your best work at midnight or on Sundays, go for it!
ROWE sounds like a fantasy, but Ressler and Thompson have already made it a reality at Best Buy, a Fortune 100 company. They have proven that ROWE not only makes employees happier but also delivers better results. And now the authors are helping companies implement ROWE nationwide.
Infused with passion and common sense,
Why Work Sucks and How to Fix It
will change the way you think about your job, your company, and your quality of life. Read it and join the revolution!

Reviews
"If you work, you need this book! Cali and Jody share the secrets of the most radical workplace experiment the Fortune 500 have ever seen. Want 35% greater productivity while going to the movies on a Wednesday afternoon or taking Fridays off? Make the switch from hours to outcomes."
—Timothy Ferriss, #1 New York Times bestselling author of The 4-Hour Workweek
"ROWE is a chance for everyone to learn a better way to work. It encourages people to contribute rather than just show up and grind out their days."
—Brad Anderson, CEO, Best Buy (from the Foreword)
"Now, this changes everything. Buy this book. Act on what you read."
—Cindy Froggatt, author of Work Naked
"This is like TiVo for your work."
—BusinessWeek
"It is a fundamental shift away from 'face time' or 'chair time' to just one consideration: Did the employee get the job done?"
—Minneapolis Star–Tribune
"The freedom, employees say, is changing their lives. They don't know if they work fewer hours—they've stopped counting—but they are more productive."
—Time
"A remarkably persuasive and mind-bending book. Family-friendly, too."
—Joan Blades, cofounder MomsRising.org and Moveon.org

About the Authors
Cali Ressler
and
Jody Thompson
are the founders of CultureRx, a company that promotes their passionate belief that there is a better way to work. They met at Best Buy, where they first created the Results-Only Work Environment. They live with their husbands and children in the Twin Cities.