Shine
: Using Brain Science to Get the Best from Your People
Ned Hallowell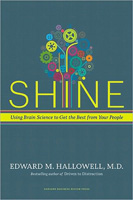 Format:
Hardcover, 000 pp.
ISBN:
9781591399230
Publisher:
Harvard Business Press
Pub. Date:
January 13, 2011
Average Customer Review:

For Bulk Orders Call: 626-441-2024

Description and Reviews
From
The Publisher:
A manager's job is getting harder to do. But the central question for all managers the one that separates great managers from the rest is how to get the most from your people. What do you do when your most talented people fall short of their potential, or worse, fall off their game for awhile? How do you inspire a solid contributor to even more stellar performance? How do you find that spark? And turn it into a burning flame?
According to best-selling author and psychiatrist, Edward M. Hallowell, MD, it's all in the brain. Creating that spark and inspiring someone to perform at their highest levels isn't rocket science; but it is brain science, and it has yet to be codified into a simple and reliable process that all managers can use. Drawing from his expertise helping people reach their full potential and synthesizing the latest research on happiness, brain science, and performance, Hallowell does exactly that he offers a five step process that leads to peak performance. Based on the latest findings in the fast-moving field of high performance research and rooted in the work of Martin Seligman, Dan Gilbert, Marcus Buckingham, Mihaly Csikszentmihalyi, John Ratey, and many other experts in psychology and neuroscience, this book gives managers a simple and coherent framework for getting the best out of people:
Selection
- how to put people in the right job, and give them the responsibilities that literally make their brains 'light up';
Connection
- how to overcome the powerful forces that disconnect us interpersonally in today's workplace, and how to restore the positive connections that fuel superior performance;
Play
- why play is essential to peak performance, and how managers can get it right;
Progress
- when the pressure is on, how to challenge the right person at the right time;
and,
Recognition
- why reward systems always decrease peak performance, and how managers can finally get this right

Table of Contents
| | | |
| --- | --- | --- |
| | | |
| | PART I: Getting Your Game | |
| 1 | Live Life For All It's Worth | |
| 2 | Dr. Shine | |
| 3 | Initiating the Cycle of Excellence | |
| 4 | Step 1: Select | |
| 5 | Step 2: Connect | |
| 6 | Step 3: Imagine and Play | |
| 7 | Step 4: Work and Practice | |
| 8 | Step 5: Mastery | |
| 9 | Step 6: Recognition | |
| 10 | Sand in the Gears of the Cycle | |
| | | |
| | PART II: Maintaining Your Love of Your Game | |
| 11 | An Amazing State of Mind | |
| 12 | The Myth of Hard Work | |
| 13 | When Following Your Dream is Folly | |
| 14 | What's Totally New About Modern Life. . .And How It Can Sabotage Peak Performance | |
| 15 | 10 Action Steps to Promote Peak Performance | |
| | | |
| | PART III: Four Examples | |
| 16 | Clay Mathile: Iams Pet Foods | |
| 17 | Joseph Loscalzo: Physician-in-Chief, Brigham & Women's Hospital | |
| 18 | Marshall Herskovitz, Writer/Director/Producer | |
| 19 | Leon and Grace de Magistris: Leon & Company | |
| | | |
| | PART IV | |
| 20 | Mooring | |

Find Items On Similar Subjects

Multipliers
: How the Best Leaders Make Everyone Smarter