Self-help Messiah
: Dale Carnegie and Success in Modern America
Steven Watts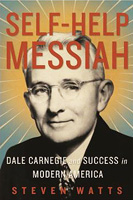 Format:
Hardcover, 592pp.
ISBN:
9781590515020
Publisher:
Other Press
Pub. Date:
October 29, 2013
Average Customer Review:

For Bulk Orders Call: 626-441-2024

Description and Reviews
From
The Publisher:
An illuminating biography of the man who taught Americans "how to win friends and influence people"
Before Stephen Covey, Oprah Winfrey, and Malcolm Gladwell there was Dale Carnegie. His book,
How to Win Friends and Influence People
, became a best seller worldwide, and
Life
magazine named him one of "the most important Americans of the twentieth century." This is the first full-scale biography of this influential figure.
Dale Carnegie was born in rural Missouri, his father a poor farmer, his mother a successful preacher. To make ends meet he tried his hand at various sales jobs, and his failure to convince his customers to buy what he had to offer eventually became the fuel behind his future glory. Carnegie quickly figured out that something was amiss in American education and in the ways businesspeople related to each other. What he discovered was as simple as it was profound: Understanding people's needs and desires is paramount in any successful enterprise. Carnegie conceived his book to help people learn to relate to one another and enrich their lives through effective communication. His success was extraordinary, so hungry was 1920s America for a little psychological insight that was easy to apply to everyday affairs.
Self-help Messiah
tells the story of Carnegie's personal journey and how it gave rise to the movement of self-help and personal reinvention.

Reviews
"[A] penetrating biography...Watts's lucid prose and shrewd analysis gives us an absorbing portrait of Carnegie and the America he both reflected and shaped."
—Publisher's Weekly (Starred Review)
"Henry Ford, Walt Disney, Hugh Hefner, and now Dale Carnegie. Steven Watts is the Plutarch of American modernity."
—Robert Westbrook, author of John Dewey and American Democracy
"Self-Help Messiah is carefully researched and vigorously written, a pleasure to read and ponder. Don't miss it!"
—Jackson Lears, author of Rebirth of a Nation: The Making of Modern America, 1877-1920
"Steven Watts's Self Help Messiah is a fantastic page turner about the complicated pop guru of the American Positive Thinking Movement. Dale Carnegie was a master marketeer and common sense philosopher. This first rate biography does the legend justice. Highly recommended."
—Douglas Brinkley, author of Cronkite

About the Author
Steven Watts
has published a number of biographies on popular figures:
The Magic Kingdom: Walt Disney and the American Way of Life
,
Mr. Playboy: Hugh Hefner and the American Dream
, and
The People's Tycoon: Henry Ford and the American Century
, which was chosen as one of five finalists for the 2005 Los Angeles Times Book Award in biography. He teaches history at the University of Missouri.