Spark
: How Old-Fashioned Values Drive a Twenty-First-Century Corporation: Lessons from Lincoln Electric's Unique Guaranteed Employment Program
Frank Koller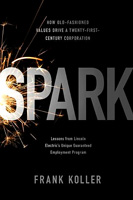 Format:
Hardcover, 272pp.
ISBN:
9781586487959
Publisher:
Public Affairs
Pub. Date:
Febraury 23, 2010
Average Customer Review:

For Bulk Orders Call: 626-441-2024

Description and Reviews
From
The Publisher:A century-old manufacturing company is taking a radically innovative approach to management with provocative implications for every business
While factories across the Midwest shutter their doors, Cleveland-based manufacturer Lincoln Electric has thrived for more than a century. In addition to being profitable and technologically innovative, through good times and bad, the company has fulfilled its unique promise of "guaranteed continuous employment." Workers are viewed as assets—not liabilities. Through flexible hours and job assignments, as well as a merit-based bonus system, Lincoln Electric's employment policies have proven healthy for the company's bottom line its employees and its shareholders.
In
Spark
, veteran journalist Frank Koller tells the story of how this unusual and profitable Fortune 1000 multinational company challenges the conventional wisdom shaping modern management's view of the workplace. Through insightful storytelling and extensive interviews with executives, workers, and leading business thinkers, Koller uses the Lincoln Electric example to illustrate how job security can inspire powerful growth and prosperity in our communities.

Reviews
"Frank Koller has done a remarkable job of presenting both an economic and a moral argument for the value to society of the unusual policies followed with great success by Lincoln Electric for over a hundred years. The book is excellent in both the historical overview and the numerous interviews with current and past employees. There is much that modern management can learn about the benefits to employees, customers, shareholders, and communities by examining the role of the 'old fashioned' culture of Lincoln Electric."
—Norman A. Berg, Professor of Business Administration, Harvard Business School
"A timely book, well researched and well written. Business, labor, and government leaders would do well to read Spark as they search for more equitable and sustainable principles for rebuilding trust in management, and getting compensation once again growing in tandem with productivity and profits."
—Thomas A. Kochan, George M. Bunker Professor of Management and Co-Director, MIT Institute for Work and Employment Research
"A fascinating glimpse into this remarkable yet, in many ways, ordinary organization, which survives, even thrives, in a sunset industry where overseas outsourcing is the norm.... Instructive and heartening, this book offers a proven model for companies that not only want healthy bottom lines but also satisfied, dedicated employees"
—Publishers Weekly


Reader's Index
Send us your favorite quotes or passages from this book
.
• "In the wake of the great financial catastrophe of 2008, stock markets lost 40 percent of their values, banks failed, corporations laid off workers in their thousands. In December of 2008, the U.S. Bureau of Labor Statistics reported that in that one month alone 524,000 Americans had lost their jobs.
Yet in a year when AT&T announced it was letting go 12,000 people, Citigroup laid off more than 50,000 employees and the Big Three automobile manufacturers slid towards bankruptcy, employees at Lincoln Electric experienced the crisis a little differently.
On December 12, 2008, the 3,000 American employees of The Lincoln Electric Company each received a white envelope. Inside was a check for their annual bonus from the company's profit-sharing plan. The average amount was $28,873, and it marked the 75th consecutive year Lincoln Electric, the world's largest manufacturer of electric-arc welding equipment, has paid a bonus to its workers.
No Lincoln Electric employees covered by the Guaranteed Continuous Employment Policy in the United States were laid off in 2008. In fact, no Lincoln Electric employees covered by the policy have been laid off for economic reasons since 1948.
It's easy to suggest that Lincoln Electric—granted its longevity, its profitability and its promise kept to its employees to guarantee them steady work—is an economic anomaly in the 21st century, an admirable but ultimately one-of-a-kind oddity. I wrote Spark to show how, in fact, Lincoln Electric has much to teach us about the value of a steady job—for a company, its employees, their families, and our economy as a whole."
From Introduction

About the Author
Frank Koller
covers the workplace for the Canadian Broadcasting Corporation. Over a 27-year career with CBC, he has worked and lived around the world as a foreign correspondent, including seven years in the United States. He holds a Master's Degree in Engineering from the Massachusetts Institute of Technology. He lives in Ottawa.