Leadership in My Rearview Mirror
: Reflections from Vietnam, West Point, and IBM
Jack Beach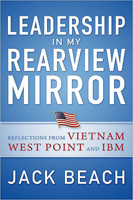 Format:
Paperback, 288pp.
ISBN:
9781583473535
Publisher:
Mc Press
Pub. Date:
February 22, 2012
Average Customer Review:

For Bulk Orders Call: 626-441-2024

Description and Reviews
From
The Publisher:
With a Foreword by Howard T. Prince II, Director of the Center for Ethical Leadership, The University of Texas at Austin.
Shared inside these pages are the leadership insights of a man who rose from reluctant draftee to decorated Army colonel, helped build the Department of Behavioral Sciences and Leadership at the United States Military Academy at West Point, and now works to develop IBM's most senior leaders.
Using concise, anecdotal chapters, author Jack Beach reveals what it takes to be a superior leader. He asserts that the primary task of leaders, especially those in senior positions, is the creation of organizational climates characterized by 360 degrees of trust and deep engagement. In service of this principle, he explains the importance of intrinsic motivation, explores the concept of principle-based leadership, introduces tools such as The 5 Trust Vital Signs, and promotes the idea of collective leadership.
Ultimately, leadership is not some set of accumulated skills, but about human development and personal reflection. It is about understanding ourselves and those around us. Being in tune with others requires being in tune with ourselves—and continually examining the frames of reference through which we view the world.
To further guide you along the path to leadership excellence, Jack includes his 19-tenet Personal Leadership Philosophy.
If you aspire to become a leader, want to improve your leadership skills, or simply enjoy good stories, then this book is for you. Its reflections and observations will change your view forever.
Through engaging and moving reflections on personal experiences, this book explores the keys to leadership by sharing insights of a man who rose from reluctant draftee sent to fight in Vietnam to become a colonel and an architect of the Department of Behavioral Science and Leadership at the Military Academy at West Point, and who currently works to develop IBM's senior leaders. Since Dr. Beach's arrival at IBM, Fortune has repeatedly ranked that company's leadership development methods as #1 in the world. The book does not describe the view from the heights of leadership, rather it identifies what is needed to make the climb and explains how to develop those attributes and behaviors in ourselves and in others. It is a splendid mix of profound--often paradoxical--leadership wisdom and wit that will enlighten and inspire leaders at any organizational level.

About the Author
Jack Beach
is a senior consultant with IBM's leadership development organization, managing their leadership strategy and research unit and overseeing all executive leadership development programs. He is a former colonel in the United States Army who helped create the Department of Behavioral Sciences and Leadership at the United States Military Academy at West Point. He has served as a consultant for chiefs of staff of foreign services such as Sri Lanka and the Republic of Maldives, deans of foreign military academies, the Los Angeles Police and Sheriff's Departments, and various senior leaders of the Army and Department of Defense. He lives in Newburgh, NY.

Table of Contents
| | | |
| --- | --- | --- |
| | | |
| | About the Author | ii |
| | Acknowledgments | vi |
| | Foreword | xi |
| | Preface | xix |
| | | |
| | Introduction Title Fight | 1 |
| | | |
| | The Reflective Leader: Leadership and Other Things I Learned Along the Way | |
| 1 | Out of Control | 9 |
| 2 | The Face in the Mirror | 15 |
| 3 | The Cost of Leadership | 21 |
| 4 | Values: It's All in the Feet | 33 |
| 5 | Leader of Rebels | 39 |
| 6 | Trusting the Untrustworthy | 45 |
| 7 | "I Am—Somebody!" | 53 |
| 8 | It's All You | 59 |
| 9 | Of Frogs and Leaders | 71 |
| 10 | Talk | 77 |
| 11 | It Pays to Treat People Unjustly | 81 |
| 12 | Just Names | 95 |
| 13 | On Leadership and Kite Flying | 111 |
| | | |
| | Leaders in Search of Leadership | |
| 14 | Leader in Search of Leadership | 125 |
| 15 | Packing Parachutes—Leadership Isn't What It Used to Be | 129 |
| 16 | Leading Kindergarten Recess | 137 |
| 17 | On Their Knees at 2 A.M. in the Drugstore | 147 |
| 18 | "I Can't Get No Satisfaction" | 157 |
| 19 | Turbulence Creates Leaders / Leaders Create Turbulence | 181 |
| 20 | Leadership: It's Just Talk | 199 |
| | | |
| | Leaders in Their Own Words | |
| 21 | Leaders Are Full of Hot Air! | 213 |
| 22 | Crisis at 35,000 Feet | 2217 |
| | | |
| | Epilogue: Your Leadership Book | 221 |
| | | |
| | Appendix I: IBM's Leadership Framework | 247 |
| | Appendix II: Coast Guard Principles | 257 |
| | Appendix III: Coast Guard Values | 259 |