Stillpower
: Excellence with Ease in Sports and Life
Garret Kramer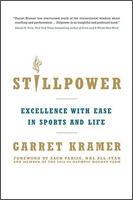 Format:
Paperback, 224pp.
ISBN:
9781582703893
Publisher:
Atria Books/Beyond Words
Pub. Date:
October 24, 2017
Average Customer Review:

For Bulk Orders Call: 626-441-2024

Description and Reviews
From
The Publisher:
Fuel Your Performance, and Life, with the Clarity of Stillpower
For years, athletes, coaches, parents, and organizations have searched for the secrets to optimum mental performance. However, in spite of a myriad of tools and techniques, success and contentment continue to be as elusive as ever, until now. Garret Kramer's
Stillpower
offers a revolutionary explanation for this predicament and provides a basic, yet dynamic, approach for the future. In an accessible style, Kramer reveals the innate principles behind consistent achievement and highlights the misalignment between the experiences of all performers and the strategies of the coaches, psychologists, and experts who are hoping to help them.
Stillpower
uses real-life examples to explore such questions as: What is "the zone" and what must we do (or not do) to get there? Why do we need to understand the difference between insight and intellect? Is goal setting really useful? Why doesn't willpower work? And why do the best mentors focus on a person's state of mind and not behavior? Virtually all of us—athletes and non-athletes alike—are looking outside of ourselves, trying to unlock the keys to happiness, freedom, and excellence with ease.
Stillpower
encourages us to look within to finally find the answers.

Reviews
"Garret Kramer has overturned much of the conventional wisdom about coaching and performance . . . Stillpower is an insightful and profound book."
—Daniel H. Pink, New York Times bestselling author of Drive and A Whole New Mind
"A clear and quiet state of mind isn't just a key element in sports; it's also important in finance, relationships, and life. The principles introduced in this book apply to so much more than athletics."
—Jean Chatzky, author of the New York Times bestseller Money 911
"In covering sports for more than twenty years, I am always looking for what separates the good athletes from the great ones. Garret Kramer looks outside the box when it comes to athletics . . . Stillpower is a must-read for someone serious about performance, or for the casual fan who wants to learn what really makes athletes tick—on and off the field."
—Ian Eagle, CBS Sports/YES Network/Westwood One Radio
"Stillpower is not just one of the best books on improving sports performance ever written—it is a must-read for coaches and performers in any field of human endeavor. While you work on your game or career, the ideas in this book will go to work on you."
—Michael Neill, author of Supercoach
"The brilliance of Garret Kramer's perspective is that he takes the often complicated process of achieving one's best performance and turns it into a direct, natural, and positive understanding . . . Stillpower provides the simple, yet powerful message the sports world has been looking for."
—Sean Hutchison, US Olympic swimming coach
"I believe the principles introduced in Stillpower are the future of athletic mental performance; actually, performance of any kind. This book helped me to recognize that in grinding so hard, I was reducing my chances to perform up to my capabilities. I now see why the game wasn't always as enjoyable as I wanted it to be, and my 'effort' rarely feels like work. In Stillpower, Garret Kramer offers hope for discovering our potential to perform freely, regardless of the circumstances of our lives. I hope, like me, you find this perspective to be extremely valuable.''
—Zach Parise, New Jersey Devils Captain and member of the US Olympic Hockey Team
"As I reflect back on my personal quest to develop character through the sport of football, I greatly identify with the wisdom and principles of this book. Stillpower is a profound playbook for the athletic and life journey. Garret Kramer shows us that people become what they think in their heart, not in their head."
—Tyrone Keys, founder of All Sports Community Services, Super Bowl–winning defensive end—Chicago Bears
"Garret Kramer understands the importance of having 'your head right.' Stillpower reveals the optimum mental functioning of an athlete and the real source of that functioning. Under this paradigm, individuals involved in sports will enjoy the character-building benefits often promised by participation. Even children will find athletics more enjoyable and, at the same time, achieve high levels of success. I know this may all sound like a tall order, but this book honestly offers that potential."
—George Pransky, PhD
"I was first introduced to sports psychology in the 1970s when I was playing professional baseball. Like all athletes, I was constantly in search of that magical place called 'the zone,' where the game slows down and pitches are suddenly easy to track. Contrary to what most people think, however, finding your way to 'the zone' doesn't come from grinding or strength of will— it comes from another source. Stillpower reveals this surprising source. If you're a serious athlete, coach, sports parent—in fact, anyone—I strongly suggest you read what Garret Kramer has to say about getting to the top of your game, on and off the field."
—Rick Wolf, sports psychology expert and host of THE SPORTS EDGE, WFAN Radio, New York
"I first heard Garret Kramer speak in 2009, and I was instantly intrigued by his message and approach to athletic mental performance. Stillpower takes a unique perspective that will challenge your traditional beliefs. If you keep an open mind and really listen to what this book has to say, you will realize how much easier and more positive life can be, and why the notion of 'no pain, no gain' will never help in your pursuit of success."
—Rob Naddelman, president of Baseball Factory


Reader's Index
Send us your favorite quotes or passages from this book
.
• "The more athletes think about themselves—i.e., how they're feeling, are they ready, how they look, what the fans think, what their parents think, whether they'll get pulled if they make a mistake—the less likely they find themselves playing with the unbounded effort required to enter the zone." Pg. 19

About the Author
Garret Kramer
is the founder and managing partner of Inner Sports, LLC. His revolutionary approach to performance has transformed the careers of professionals athletes and coaches, Olympians, and collegiate players across a multitude of sports. Kramer's work has been featured on WFAN, ESPN, Fox, and CTV, as well as in Sports Illustrated, The New York Times, The Wall Street Journal, and other national publications.

Table of Contents
| | | |
| --- | --- | --- |
| | | |
| | Foreword Zach Parise | xv |
| | Preface | xix |
| | Introduction | xxiii |
| | | |
| 1 | The Misconception: Athletics Teach Life Lessons | 1 |
| 2 | Unbounded Effort, Willpower, and Insight | 13 |
| 3 | Coaching, Wisdom, and Success | 29 |
| 4 | Clear Thinking, Resilience, and Life Beyond the Scoreboard | 47 |
| 5 | The Ultimate Coaching Dilemma: An Athlete's State of Mind Versus Behavior | 67 |
| 6 | The Neutrality of the Outside World | 83 |
| 7 | Sports, Judgment, and Life from the Inside Out | 97 |
| 8 | Mind, Body, and Performance | 115 |
| 9 | Every Athlete's Birthright | 129 |
| 10 | The Freedom to Win | 143 |
| | Epilogue: The Only Answer | 157 |
| | | |
| | Acknowledgments | 161 |
| | Appendix: Your Game Plan for the Future | 165 |
| | Notes | 171 |
| | Index | 175 |
| | Contact Information | 189 |