Living in More Than One World
: How Peter Drucker's Wisdom Can Inspire and Transform Your Life
Bruce Rosenstein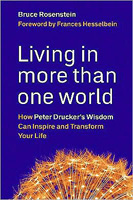 Format:
Hardcover, 176pp.
ISBN:
9781576759684
Publisher:
Berrett-Koehler Publishers
Pub. Date:
August 1, 2009
Average Customer Review:

For Bulk Orders Call: 626-441-2024

Description and Reviews
From
The Publisher:
• Millions revere Drucker as "the father of modern management"—this is the first book to share his reflections on self-management
• Based on Bruce Rosenstein's 20 years-plus study of Drucker's life and thought
• Helps you construct a complete life plan through exercises, questions, and illustrative anecdotes and quotes
How can we have a rich and fulfilling life? For Peter Drucker, one of the most influential thinkers of modern times, the secret was "living in more than one world"—enjoying a diverse set of interests, activities, acquaintances, and pursuits. Drucker was able to do this despite extraordinary demands on his time, and now Bruce Rosenstein shows how the man who transformed organizational management can transform the way you manage your personal and professional life.
An enormously influential business author and consultant, Drucker also wrote extensively on self-development and self-management, but these writings are scattered throughout dozens of books and articles. For the first time Rosenstein brings these ideas together into a straightforward framework that guides you in building a multifaceted life and career. It's the next best thing to being mentored by Drucker himself.
Rosenstein shares Drucker's advice for, first, honing in on your core competencies—developing your main talents, clarifying your values, and managing your time. With this firm foundation established he uses Drucker as both source and example to show how to enrich your life by developing parallel and second careers, making a difference in the lives of others through voluntarism and service, and using teaching and lifelong learning as complimentary ways of staying engaged and up to date.
By living in more than one world you gain new insights, see your world from fresh perspectives, access ever-changing sources of inspiration and stimulation. Peter Drucker managed a varied professional life as a writer, educator, and consultant, and was deeply immersed in literature, music, and art. But he wasn't superhuman. This is a life that can be lived by anybody who has the tools and Bruce Rosenstein provides them in this thoughtful and inspiring book.

About the Author
Bruce Rosenstein
has been a regular contributor as a writer reviewing business and management books for USA TODAY's Money section. He has studied Peter Drucker's work for more than 20 years.
Frances Hesselbein is the former founding president and current chairman of the Board of Governors of the Leader to Leader Institute and editor in chief of its journal Leader to Leader. She is a recipient of the Presidential Medal of Freedom, the United States' highest civilian honor, and has been awarded doctorates from twenty college universities.
Alan Shrader is managing editor of Leader to Leader. He has more than twenty-five years of experience in publishing as an editor, writer, and director of marketing.
Established in 1990 as the Peter F. Drucker Foundation for Nonprofit Management, the Leader to Leader Institute furthers its mission--to strengthen the leadership of the social sector--by providing social sector leaders with essential leadership wisdom, inspiration, and resources to lead for innovation and to build vibrant social sector organizations.

Table of Contents
| | |
| --- | --- |
| | |
| | Foreword by Frances Hesselbein |
| | Preface |
| | |
| 1 | Designing Your Total Life |
| 2 | Developing Your Core Competencies |
| 3 | Creating Your Future |
| 4 | Exercising Your Generosity |
| 5 | Teaching and Learning |
| 6 | Conclusion: Launching Your Journey |
| | |
| | Suggested Readings |
| | Notes |
| | Acknowledgments |
| | Index |
| | About the Author |