The Power of Adversity
: Tough Times Can Make You Stronger, Wiser and Better
Al Weatherhead with Fred Feldman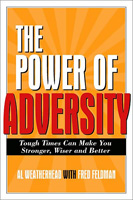 Format:
Hardcover, 192pp.
ISBN:
9781571745620
Publisher:
Hampton Roads Pub Co
Pub. Date:
April 25, 2008
Average Customer Review:

For Bulk Orders Call: 626-441-2024

Description and Reviews
From
The Publisher:
Misfortune . . . Failure . . . Illness . . . It seems adversity dooms us to lives of frustration.
Not so, according to dynamic industrialist and major philanthropist Al Weatherhead. He says adversity is not a curse but a gift and that when we embrace our problems we temper and empower ourselves to achieve unimagined success.
With insight and compassion, Weatherhead helps us understand that the question we must ask ourselves when bowled over by life s troubles is not Why me? but instead, Why not me?
In the process, this pragmatic and profound book reveals the secret to achieving a greater understanding and mastery of life by harnessing the
Power of Adversity
.

Reviews
"Al Weatherhead's Power of Adversity has changed my response to daily bumps in the road and major catastrophic events. I will appreciate each challenge, and accept it as a gift to face my own shortcomings. So much of our suffering is the result of our own negativity. His wisdom helps me find solutions I never dreamed were possible."
—Margaret Roche, CEO, Stella Maris, Inc.
"Al Weatherhead's personal journey from hardship and despair to strength and positive thinking and action is truly inspirational. This remarkable book is a "must" read for anyone facing adversity because it is a message of hope and a practical guide to leading a positive and fulfilling life."
—Scott Cowen, President, Tulane University
"An arresting personal story that shows how to turn misfortune into its opposite by thinking and acting in circles wider than oneself."
—Carol Gluck, Columbia University
"Overcoming adversity is no easy feat. From Al Weatherhead's perspective, adversity is simply another way of spelling opportunity. For anyone searching for a philosophy for life based on real world experience, this is the book to read. Embrace the author's approach and you will have taken a major step toward transforming the quality of your life."
—Roger Cheever
"The lessons Al Weatherhead seeks to impart here are a testament to a life of generosity won through practicing what so many only preach that every challenge represents another opportunity for success. Many in higher education today enjoy the fruits of his persistence."
—Lee C. Bollinger, President, Columbia University
"The Power of Adversity is a courageous book in which legendary businessman and philanthropist Al Weatherhead describes how adversity properly understood can be a catalyst for powerful and meaningful personal transformation. Read it and be inspired for yourself and for someone you love. Highly recommended."
—Dean Ornish, MD, founder and president of the Preventive Medicine Research Institute, Clinical Professor of Medicine, University of California, San Francisco, Author, The Spectrum and Dr. Dean Ornish's Program for Reversing Heart Disease
"The Power of Adversity is packed with nuggets of wisdom."
—Delos M. Cosgrove, MD, CEO and President, Cleveland Clinic

About the Author
Al Weatherhead
, chairman and CEO of Weatherhead Industries, endured wrenching family estrangement, serious arthritis and heart disease, and is a recovering alcoholic. Instead of surrendering to his adversity, he came to see it as a blessed enemy and leveraged it to achieve extraordinary personal and professional success. He lives with his wife in Cleveland, Ohio.

Table of Contents
| | | |
| --- | --- | --- |
| | Foreword Lance Gould, MD | xi |
| | Acknowledgments | xv |
| | | |
| 1 | We're Not Meant to Be Happy ... We're Meant to Grow | 1 |
| 2 | If I'm at the Center of the Universe ... Where Are You? | 15 |
| 3 | Don't Ask "Why Me?" Instead, Ask "Why Not Me?" | 33 |
| 4 | I Suffer Passes ... I Suffered Never Passes | 51 |
| 5 | Adversity Builds Walls for You to Tear Down | 63 |
| 6 | Running Away Never Helps | 73 |
| 7 | Four Techniques to Help You Harness the Power of Adversity | 85 |
| 8 | Five Tips to Help You Put Adversity in Perspective | 97 |
| 9 | Problem Solving Is One of the Great Joys in Life | 123 |
| 10 | There Is Always a Great Idea Lurking in Adversity ... Will You Find It? | 137 |
| | Afterword | 145 |
| | | |
| | Adversity Check List | 147 |
| | Adversity Work Sheet | 153 |
| | Endnotes | 161 |
| | Index | 163 |

Find Items On Similar Subjects

The Adversity Advantage
: Turning Everyday Struggles into Everyday