Connection Culture
: The Competitive Advantage of Shared Identity, Empathy, and Understanding at Work
Michael Lee Stallard with Jason Pankau and Katharine P Stallard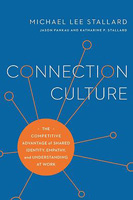 Format:
Paperback, 160pp.
ISBN:
9781947308398
Publisher:
Association for Talent Development
Pub. Date:
May 1, 2015
Average Customer Review:

For Bulk Orders Call: 626-441-2024

Description and Reviews
From
The Publisher:
Organizations thrive when employees feel valued, the environment is energized, and high productivity and innovation are the norm. This requires a new kind of leader who fosters a culture of connection within the organization. Michael Lee Stallard's Connection Culture provides a fresh way of thinking about leadership and offers recommendations for how to tap into the power of human connection.
If you want to begin fostering a connection culture in your organization, this book is your game-changing opportunity. Stop undermining performance and take the first step toward change that will give your organization, your team, and all whom you lead a true competitive advantage.
Inspiring and practical, this book challenges you to set the performance bar high and to keep reaching. In this book you will learn how to:
• foster a connection culture
• emulate best practices of connected workplaces like those at Pixar and Duke University's men's basketball team
• boost vision, value, and voice within your organization.

Reviews
"At the end of the day leadership is all about the human experience. Connection Culture provides ideas, actions, and pathways that servant leaders can use to not only enhance performance, but more importantly to build a strong culture."
—Howard Behar, Former President , Starbucks International
"Connection Culture captures that profound truth that people come first and provides the framework, language, and practices every leader needs to achieve a sustainable, superior performance. A great leadership guide for leaders at every level."
—Frances Hesselbein , President and CEO, The Frances Hesselbein Leadership Institute
"Michael Stallard provides us with a new language about leadership, a new and important way of thinking for leaders, and all the research and evidence to back his connection strategy. This is more than a great read; Michael's connection strategy is a game changer for leaders."
—Vernon Clark, Admiral, U.S. Navy (Ret), Former Chief of Naval Operations
"Connection Culture lays out a compelling case for a culture of connection in every organization, and provides a framework for leaders who want to apply positive personal values in practice in their organizations and teams."
—John Young, Group President, Global Established Pharma Businesses, Pfizer
"Engaging, while offering real solutions to human challenges that occur in the workplace! As someone who has researched and published in the field of organizational psychology, I can honestly say that Connection Culture is right on target and a book that every leader should race to get his or her hands on."
—Karla R. Peters-Van Havel, Chief Operating Officer, The Institute for Management Studies
"As a psychiatrist I have cared for thousands of individuals with anxiety and depression who complained that they did not feel appreciated at work and longed for a sense of importance. Connection Culture addresses this problem and offers good, practical solutions. Every manager needs to read this book—it will foster healthier work environments and make my job a lot easier!"
—Ted George, Clinical Professor, George Washington School of Medicine, Senior Investigator, National Institute on Alcohol Abuse and Alcoholism
"Connection Culture grabbed my attention from the beginning and had me jumping on the phone to share its ideas with friends and colleagues. We have to do better as leaders and as teachers of leadership development to be intentional in creating and sustaining connection cultures. Even when you think you've got it all in place (the surveys, training, recognition awards, and celebrations), disconnection creeps in. You must read this book."
—Janis Apted, Associate Vice President, Faculty and Academic Development, The University of Texas MD Anderson Cancer Center

About the Author
Michael Lee Stallard
is co-founder and president of E Pluribus Partners and a respected and recognized expert on the human connection aspects of leadership and culture. He speaks, teaches, coaches and consults for clients including Google, GE, Skillsoft, and NASA. Michael is the primary author of the book Fired Up or Burned Out, and a contributor to several books including What Managers Say, What Employees Hear: Connecting With Your Front Line (So They'll Connect with Customers), and the ASTD Management Development Handbook. He lives in Greenwich, CT.

Find Items On Similar Subjects

Fired Up or Burned Out
: How to Reignite Your Team's Passion, Creativity, and Productivity