Riding the Tiger
: Leading Through Learning in Turbulent Times
Ed Cohen and Priscilla Nelson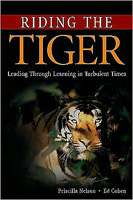 Format:
Hardcover, 192pp.
ISBN:
9781562867348
Publisher:
American Society for Training and Development
Pub. Date:
June 16, 2010
Average Customer Review:

For Bulk Orders Call: 626-441-2024

Description and Reviews
From
The Publisher:
Leadership and the ability to influence change can convert chaos into an opportunity for success. Though most leadership books are written from the viewpoint of lessons on the path to great success, Riding the Tiger provides a rare opportunity to learn from a catastrophic event that shook the foundation of a thriving global organization. This book gives you a specific, step-by-step approach to take that tiger by the tail and benefit from the challenges of leading during chaotic times. You'll discover many innovative leadership techniques as you read the fascinating, powerful stories about people who've implemented these tools. These experiences and techniques are universally applicable wherever people in an organization are facing turbulence-whether caused by the global recession, rapid growth, mergers and acquisitions, internal corruption, or any other changes.
In 2009, the authors, Priscilla Nelson and Ed Cohen, were flourishing as senior leaders at India's fourth largest IT services firm, Satyam Computer Services, a 53,000 person company with presence in 60 countries. It all came to a startling halt when the CEO confessed to "cooking the books" and the company became known as "India's Enron." Based on their strategies, many of which they implemented during this crisis,
Riding the Tiger
provides outstanding leadership techniques steering the way to organizational renewal.

Reviews
"I'm a huge fan of actionable checklists; they work. This book not only explains what to do for organizations in serious crisis, but the principles are equally valuable for every business in good times and bad times."
—Jack Zenger, CEO, Zenger|Folkman, Co-author of best-selling The Extraordinary Leader and The Inspiring Leader
"To be faced with a crisis the magnitude of what Satyam dealt with and then one year later to be reborn and vibrant in a new avatar speaks volumes about the value of a strong leadership culture. This resilience is the result of years of painstakingly implemented leadership development strategies, which were spearheaded by teams led by Ed Cohen and in which Priscilla Nelson was also a highly influential senior leader. As a beneficiary of the leadership techniques covered in this book, I believe they are a must for all who aspire to succeed in today's world."
—Venkatesh Roddam, Director, VenSat Tech India, Former CEO at Satyam BPO

About the Author
Pris Nelson
, President & CEO Nelson Cohen Global Consulting, she taps into 30 years of best in class talent management experience working with the leaders Fortune 500 companies in over 60 countries. She has received international acclaim for her work in leadership development, executive coaching and diversity. She has presented throughout the United States, Europe and Asia, with numerous keynotes in China, and India.
Ed Cohen
, Executive Vice President Nelson Cohen Global Consulting, reaches for his quarter century of experience as a corporate executive who has conducted business in more than 40 countries. From China to Chicago, from Australia to Amsterdam, Ed has been a featured speaker around the world. Ed Cohen is the only Chief Learning Officer to lead two companies to the number one ranking in the ASTD BEST Awards-Booz Allen Hamilton and Satyam Computer Services. In Addition to Riding the Tiger, he is the author of Leadership Without Borders published John Wiley & Sons and a contributing author to Next Generation Corporate Universities, by Pfeiffer Publishing, a division of John Wiley and Sons.

Table of Contents
| | | |
| --- | --- | --- |
| | | |
| | Foreword by Ann Herrmann-Nehdi | xv |
| | Preface | xix |
| | Acknowledgements | xxiii |
| | | |
| 1 | Organizational Crisis Strikes: The Legacy of the Satyam Experience | 1 |
| 2 | The Role of Learning during a Crisis: Developing a "Lights On" Strategy | 9 |
| 3 | The Role of Leadership during a Crisis: Setting Guidelines for Key Concerns | 29 |
| 4 | Guiding the Evolution of Your Organization's Culture during a Crisis | 43 |
| 5 | Coaching for Leaders | 65 |
| 6 | Using Social Networking Media | 83 |
| 7 | Caring for the Wounded | 97 |
| 8 | Salvaging Customer Relationships Through Real-Time Learning | 115 |
| 9 | Leading Through Learning: Creating a Postcrisis Plan | 125 |
| | | |
| | Appendix A: The Legacy of Learning at Satyam | 135 |
| | Appendix B: Echoes of Innocence—More Voices from Satyam | 143 |
| | References | 163 |
| | About the Authors | 167 |
| | Index | 169 |