Concept of the Corporation
Peter F. Drucker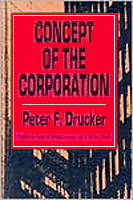 Format:
Paperback, 329pp.
ISBN:
9781560006251
Publisher:
Transaction Publishers
Pub. Date:
Reprint Edition January 1, 1993 (1969)
Average Customer Review:

For Bulk Orders Call: 626-441-2024

Description and Reviews
From
The Publisher:
Concept of the Corporation
was the first study ever of the constitution, structure, and internal dynamics of a major business enterprise. Basing his work on a two-year analysis of the company done during the closing years of World War II, Drucker looks at the General Motors managerial organization from within. He tries to understand what makes the company work so effectively, what its core principles are, and how they contribute to its successes. The themes this volume addresses go far beyond the business corporation, into a consideration of the dynamics of the so-called corporate state itself.
When the book initially appeared, General Motors managers rejected it as unfairly critical and antibusiness. Yet, the GM concept of the corporation and its principles of organization later became models for organizations worldwide. Not only businesses, but also government agencies, research laboratories, hospitals, and universities have found in
Concept of the Corporatio
n a basis for effective organization and management.
Because it offers a fundamental theory of corporate goals, this book is a valuable resource for business professionals and organization analysts. It will also be of interest to students and professionals in economics, public administration, and political science. Professional and technical readers who admire Peter Druckerís work will want to be certain this volume is in their personal library. At a time when everything from the size to the structure of corporations is being questioned, this classic should prove a valuable guide.

About the Author
Peter F. Drucker
was born in 1909 in Vienna and was educated there and in England. He received his doctorate in public and international law while working as a newspaper reporter in Frankfurt, Germany, and then worked as an economist for an international bank in London. In 1927, he came to the United States. Drucker's management books and analyses of economics and society are widely read and respected throughout the world and have been translated into more than 20 languages. He also has written a lively autobiography, two novels, and several volumes of essays. He has been a frequent contributor to various magazines and journals over the years and is an editorial columnist for
The Wall Street Journal
.

Table of Contents
Introduction to the Transaction Edition
Preface to the 1983 Edition
Preface to the Original Edition
Part I: Capitalism in One Country
1
Part II: The Corporation as Human Effort
20
1
Organization for Production
20
2
Decentralization
41
3
How Well Does It Work?
72
4
The Small Business Partner
98
5
Decentralization as a Model?
115
Part III: The Corporation as a Social Institution
130
1
The American Beliefs
130
2
The Foreman: The Industrial Middle Class
163
3
The Worker
176
Part IV: Economic Policy in an Industrial Society
209
1
The "Curse of Bigness"
209
2
Production for "Use" or for "Profit"?
230
3
Is Full Employment Possible?
264
Epilogue (1983)
291
Index
323

Find Items On Similar Subjects

My Years with General Motors