Who Can You Trust?
How Technology Brought Us Together and Why It Might Drive Us Apart
Rachel Botsman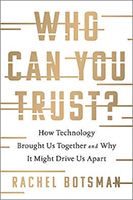 Format:
Paperback, 352pp.
ISBN:
9781541762701
Publisher:
PublicAffairs
Pub. Date:
September 25, 2018
Average Customer Review:

For Bulk Orders Call: 626-441-2024

Description and Reviews
From
The Publisher:
If you can't trust those in charge, who can you trust?
From government to business, banks to media, trust in institutions is at an all-time low. But this isn't the age of distrust—far from it.
In this revolutionary book, world-renowned trust expert Rachel Botsman reveals that we are at the tipping point of one of the biggest social transformations in human history—with fundamental consequences for everyone. A new world order is emerging: we might have lost faith in institutions and leaders, but millions of people rent their home to total strangers, exchange digital currencies, or find themselves trusting a bot. This is the age of "distributed trust", a paradigm shift driven by innovative technologies that are rewriting the rules of an all-too-human relationship.
If we are to benefit from this radical shift, we must understand the mechanics of how trust is built, managed, lost and repaired in the digital age. In the first book to explain this new world, Botsman provides a detailed map of this uncharted landscape—and explores what's next for humanity.

Reviews
"Who Can You Trust is beautifully written primer for a new world that sets you up to be a better citizen, consumer, and parent. I quickly learnt so much about so many things I wanted to know."
—Sherry Turkle, Professor, MIT; author of Reclaiming Conversation and Alone Together

About the Author
Rachel Botsman
teaches how technology is transforming human relationships and what it means for life, work and how we do business. In her first highly acclaimed book, What's Mine is Yours (HarperCollins, 2010), she defined the theory of collaborative consumption. She teaches the world's first MBA course on the collaborative economy, which she designed, at Oxford University's Saďd School of Business. She is a regular writer and commentator in leading international publications including Harvard Business Review, Economist, The New York Times, Wall Street Journal, Fast Company and more. Rachel is a contributing editor to Wired magazine. She has appeared on many high-profile news programs, including the BBC, CNN and NPR. An engaging storyteller and visionary thinker, Rachel lectures widely on technological and social issues. Her TED talks have been viewed more than three million times. Rachel is @rachelbotsman on Twitter.