The Innovation Code
: The Creative Power of Constructive Conflict
Jeff DeGraff and Staney DeGraff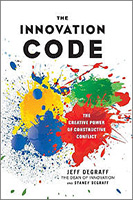 Format:
Hardcover, 160pp.
ISBN:
9781523084760
Publisher:
Berrett-Koehler Publishers
Pub. Date:
August 7, 2017
Average Customer Review:

For Bulk Orders Call: 626-441-2024

Description and Reviews
From
The Publisher:
Harmony is sublime in music but deadly to innovation. The only way to create new, hybrid solutions is to clash. Innovation happens when we bring people with contrasting perspectives and complementary areas of expertise together in one room. We innovate best with people who challenge us, not people who agree with us.
It sounds like a recipe for chaos and confusion. But in
The Innovation Code
, Jeff DeGraff, dubbed the "Dean of Innovation," and Staney DeGraff introduce a simple framework to explain the ways different kinds of thinkers and leaders can create constructive conflict in any organization. This positive tension produces ingenious solutions that go far beyond "the best of both worlds."
Drawing on their work with nearly half of the Fortune 500 companies, the DeGraffs help you harness the creative energy that arises from opposing viewpoints. They identify four contrasting styles of innovator—the Artist, the Engineer, the Athlete, and the Sage—and include exercises and assessments for building, managing, and embracing the dynamic discord of a team that contains all four. You can also figure out where you fit on the continuum of innovator archetypes.
Using vivid examples,
The Innovation Code
offers four steps to normalize conflict and channel it to develop something completely new. By following these simple steps, you will get breakthrough innovations that are both good for you and your customers. This is a rigorous but highly accessible guide for achieving breakthrough solutions by utilizing the full—and seemingly contradictory—spectrum of innovative thinking.

Reviews
"Jeff DeGraff once again challenges us all on how to create innovation in our teams and how we lead them. In The Innovation Code, Jeff discusses how to use conflict and challenge to truly make innovation stronger and more resilient, adapting to the needs of the team and sometimes, frankly, to the depth of the innovation."
—Peter D. Hortensius, Chief Technology Officer and Chief of Strategy, Lenovo
"The most undervalued element of innovation is tension. The push and pull between diverse perspectives has generated some of the world's most surprising breakthroughs. Jeff DeGraff shows how to stoke this kind of positive conflict among the Artists, Engineers, Sages, and Athletes in your organization."
—Beth Comstock, Vice Chair, Business Innovations, General Electric
"Most business leaders are expecting transformational change to their industry in the future due to the impacts of technology. However, new technologies alone won't help companies survive and grow. It's the innovation culture and process that must be optimized to create value. Jeff provides deep insights into developing the culture and competency to create value beyond strategy."
—Joseph Byrum, Global Head of Product Development, Syngenta
"Dr. Jeff DeGraff, the Dean of Innovation, provides valuable insights on how to harness and balance the power of organizational diversity and conflict to drive innovation. The book is a practical guide based on years of experience working with many of the world's best-known organizations."
—Matt Simoncini, President and CEO, Lear Corporation
"Developing innovators is hard. Creating organizational capabilities for innovation is harder. Sustaining a culture of innovation is hardest. Based on extensive experience advising leaders, The Innovation Code presents a useful framework for recognizing and harnessing the contributions of Artists, Engineers, Sages, and Athletes."
—Adam Grant, New York Times bestselling author of Originals and Give and Take and Professor of Psychology and Management, The Wharton School
"With a lot of experience working with Fortune 500 companies, Professor DeGraff shares his insights and shows you the practical tools to develop the competency and culture to innovate inside your organization."
—Marshall Goldsmith, international bestselling author or editor of thirty-five books, including What Got You Here Won't Get You There and Triggers
"You know what I never want to do again? Be in a meeting about another meeting. It's the business leaders' opportunity and responsibility to create a culture that catalyzes, identifies, and cultivates innovators—the lifeblood of any organization. Meetings aren't the answer; it's innovation. The Innovation Code provides clear guidance on how to identify innovation and get the best from it."
—Victoria R. Montgomery-Brown, CEO and cofounder, Big Think
"It is rare to find a senior executive at a large company who does not claim to value innovation; however, ask him for his 'innovation playbook' and you will likely get a blank stare. In The Innovation Code, Professor Jeff DeGraff has written the definitive guide to creating the right conditions, assembling and nurturing the right team, and recognizing and harnessing the right interpersonal conflicts to create a winning innovation culture. The Innovation Code is itself a conflict—a well-written book of ideas that nonetheless can be readily put into practice by managers who want to innovate for growth."
—Tom Glocer, former CEO, Thomson Reuters
"With The Innovation Code, Jeff DeGraff masterfully reveals the personality traits that drive innovation and shows us how we can harness those traits in our organizations, our teams, and ourselves."
—Aaron Fried, Vice President, MetLife
"The Innovation Code should be a 'must' for leaders who wish their organizations to grow and prosper. The essence of the book, as its title suggests, is the acceptance—first by the leader and then by her or his close associates—of the fact that conflict, disruption, and challenge of the status quo are a healthy proposition and the basis for innovation to occur and for the organization to gain strength from it. When this concept is embraced, the environment is poised to move forward, but to do so, it needs the balance of creativity, control, competition, and understanding that comes from a diverse workforce. The book explains in simple and understandable ways the four competing approaches that drive innovation and thereby growth. Jeff DeGraff beautifully describes the creative power of constructive conflict, something that can be applied to manufacturing as well as service industries the world over."
—Carlos A. Pellegrini, MD, FACS, Chief Medical Officer, UW Medicine; Vice President for Medical Affairs, University of Washington; and former President, American College of Surgeons
"Jeff DeGraff has helped many of the world's leading arts organizations summon the courage to evolve, adapt, and develop new ways to grow their organizations. Conflict is an honest and necessary part of leading any successful arts and entertainment organization. The Innovation Code should be standard issue for anyone who is a leader in the arts!"
—Matthew VanBesien, President, New York Philharmonic
"The idea of creative tension has been around for many years. The difficulty comes with how to keep it positive, manage it, and take advantage of the outcomes. Jeff's expertise is born of his experience with hundreds of companies around the globe. His practical insights and advice will help you harness the power of diversity and creativity and build a culture to maximize innovation."
—Mabel Casey, Vice President, Global Marketing and Sales Support, Haworth, Inc.
"Innovation is hard. Unlike other books, The Innovation Code doesn't gloss over it or make it sound easy. In fact, it tackles the hardest element: how to create constructive conflict and use it to innovate. In this book, DeGraff, the Dean of Innovation, shares his insights from working with many organizations to create a practical guide for all students of innovation."
—Mark Thompson, New York Times bestselling author, Forbes columnist, and venture capitalist
"Most companies want a culture of innovation, but they don't know what it is or how to develop one. DeGraff shows us what we need to do in the most fundamental way: adopting the mindset of innovator and embracing gracious conflicts. Instead of avoiding conflicts, DeGraff explains that innovators can harness this energy to create something better and new. This book is a playbook about innovation that can be applied in any field."
—Tan Le, founder and CEO, EMOTIV
"The Innovation Code shows you how to play to win the innovation game. Whether you're managing a professional sports team, or any other kind of organization, or just trying to develop your own skills, The Innovation Code is the playbook for you."
—R. C. Buford, General Manager, San Antonio Spurs

About the Authors
Jeff DeGraff
is an advisor to Fortune 500 companies—including General Electric, Coca-Cola, Google, Mercedes-Benz, and many more—and a professor at the Ross School of Business at the University of Michigan. He has written several books, including Innovation You, Creativity at Work, and Leading Innovation, and his thoughts on innovation are regularly covered by Inc., Fortune, and Psychology Today, to name a few. He has a regular segment on public radio called The Next Idea.
Staney DeGraff
is the CEO of Innovatrium Institute for Innovation, a laboratory and consulting firm with multiple locations. She works with large organizations, universities, and municipalities to create a sustainable innovation ecosystem that can grow organically and connect the dots between cutting-edge research, talent acquisition and retention, commercialization, and economic development.