The Mood Elevator
: Take Charge of Your Feelings, Become a Better You
Larry Senn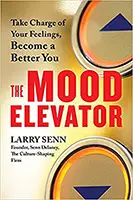 Format:
Paperback, 232pp.
ISBN:
9781523084616
Publisher:
Berrett-Koehler Publishers
Pub. Date:
August 14, 2017
Average Customer Review:

For Bulk Orders Call: 626-441-2024

Description and Reviews
From
The Publisher:
We all ride the Mood Elevator up and down every day. How well we do it impacts our relationship, our personal effectiveness, our career and our experience of life. Most people take that ride for granted and don't think it can be influenced. But what if we knew the right buttons to push to move to the top of the Mood Elevator. Wouldn't it be useful if there were proven ways to make visits to the lower floors less frequent and less intense?
In this very practical guide, Larry Senn provides an operating manual to keep you out of the emotional basement. He shows how to recognize when you've become?so accustomed to being stuck on a lower floor—depressed, stressed, anxious, judgmental—you don't even realize it and what to do to interrupt those negative thought patterns and start going up again. He urges us to cultivate mental attitudes like curiosity and gratitude that will keep us on the higher floors and explains how to quiet the mind and nurture positive thoughts without succumbing to Pollyannaish denial. And as someone who took up triathalons at the age of seventy, he speaks from experience when he emphasizes the inseparable connection between physical health and mental health.
Through Senn's decades of work as a consultant, the Mood Elevator has been enthusiastically embraced by hundreds of thousands of people around the world.?It symbolizes our moment-to-moment experience of life, encompassing a wide range of feelings. Together, these emotions play a major role in defining the quality of our lives and relationships and our effectiveness on the job. By sharing his work with a wider audience, Senn hopes to help all of us live life at our best.

Reviews
"Larry Senn and the concepts he teaches, like the Mood Elevator, have had a profound impact on my career, on the success of Yum! Brands around the world, and on me personally."
—David Novak, former Chairman and CEO, Yum! Brands, and author of Taking People with You
"Larry's tools for teaching leaders how to do the 'right people things' leaves an indelible mark on the emotional IQ of any business enterprise. The Mood Elevator has become an important part of the nomenclature of the three companies I've run."
—Mark Frissora, President and CEO, Caesars Entertainment
"This book is the ticket for anyone who wants to spend more time on the top floors of the Mood Elevator. The concept has been invaluable in all wa
—General Josue "Joe" Robles, Jr., former President and CEO, USAA
"Larry Senn has had a profound influence on my life through elegant yet simple principles, now found in The Mood Elevator. Practice the lessons in The Mood Elevator and the arc of your life will be changed forever—for the better."
—Dr. Gordon Gee, President, West Virginia University, and former President, The Ohio State University
"The Mood Elevator inspires leaders to live more of life at their best, build better relationships, and create more success."
—Leslie H. Wexner, Chairman and CEO, L Brands
"Larry's gift of offering simple yet powerful guidance to high happiness and success is masterful. The Mood Elevator tool is helping change lives, organizations, and families—thus, our world. I invite all leaders interested in upping their organization's mood and impact to read The Mood Elevator."
—Vance Caesar, PhD, coauthor of The High Achiever's Guide to Happiness and author of Uncommon Career Success
"As his personal physician for decades, I know that Larry has been living the principles of the Mood Elevator and that this has resulted in his phenomenal cardiovascular and mental health. The principles of the Mood Elevator regarding living a balanced life emotionally and physically are cornerstones of cardiovascular risk reduction, as Larry has illustrated personally."
—Jay A. Johnson, MD, FACC, board-certified cardiologist and Attending Staff, Stanford University Medical Center
"The Mood Elevator is an engaging lift into the deeper aspects of ourselves and the richest parts of our lives. Through his immense personal and corporate experience, Larry Senn shares practical wisdom on how to enhance our success in business, relationships, health, and everyday living."
—Rev. Joshua Reeves
"The Mood Elevator is the best thinking and guidance I have ever read on healthy living for individuals and healthy cultures for organizations. The tools are being used and embraced in our organization and we are experiencing remarkable results."
—Gary Shorb, former CEO, Methodist Le Bonheur Healthcare
"It is an amazing book that elevates your moods to the highest levels and unlocks your potential to achieve all-around success in your life. I wish I had this book long ago."
—Professor M. S. Rao, international leadership expert
"Once again, Larry Senn has written a book that is simple to understand but has profound implications on how we interact. He makes the point that we are in control of our mood. I highly recommend this book."
—Tom Voss, former Chairman, President, and CEO, Ameren Corporation
"The book is brilliant! Growing up, the book that influenced me perhaps more than any was Napoleon Hill's Think and Grow Rich. This is really like the modern-day version of Think and Grow Rich . . . the concept that our thinking creates our feelings makes us realize what control we have. Great stories."
—Robert Reiss, host of The CEO Show

About the Author
Larry Senn
is chairman of Senn Delaney, a Heidrick & Struggles company and the most experienced culture-shaping firm in the world. It has worked with over a hundred Fortune 500 CEOs and their teams and thousands of other organizations around the world, as well as with university presidents, state governors, and members of US presidents' cabinets. Senn is the coauthor of Winning Teams, Winning Cultures and 21st Century Leadership.