Conflict without Casualties
: A Field Guide for Leading with Compassionate Accountability
Nate Regier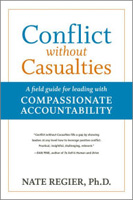 Format:
Paperback, 224pp.
ISBN:
9781523082605
Publisher:
Berrett-Koehler Publishers
Pub. Date:
April 24, 2017
Average Customer Review:


For Bulk Orders Call: 626-441-2024

Description and Reviews
From
The Publisher:
Make Conflict Your Partner for Positive Change!
Clinical psychologist and transformative communication expert Dr. Nate Regier believes that the biggest energy crisis facing our world is the misuse of conflict. Most organizations are terrified of conflict, seeing it as a sign of trouble. But conflict isn't the problem, says Regier. It's all about how we use the energy.
When people misuse conflict energy, it becomes drama: they struggle against themselves or each other to feel justified about their negative behavior. The cost to companies, teams, and relationships is staggering. The alternative, says Regier, is compassionate accountability: struggling with others through conflict. Discover the Compassion Cycle, an elegant model for balancing empathy, care, and transparency with boundaries, goals, and standards. Provocative, illuminating, and highly practical, this book helps us avoid the casualties of conflict through openness, resourcefulness, and persistence.

Reviews
"Conflict without Casualties fills a gap by showing leaders at any level how to leverage positive conflict. Practical, insightful, challenging, relevant."
—Dan Pink, New York Times bestselling author
"Who could ever think of conflict as creative? Nate Regier, that's who. In Conflict without Casualties, Nate introduces the concept of compassionate accountability—holding someone, including yourself, accountable while preserving one's dignity. His strategies are effective at work and at home—at every level. Don't shy away from conflict; face it with creativity and compassion and watch things change for the better."
—Ken Blanchard, coauthor of The New One Minute Manager® and Collaboration Begins with You
"We all know that drama will suck the energy out of your day, your department, and your company, but no one has identified with as much precision as Regier how to eliminate the drama and suffuse the workplace with more creativity, accountability, and productivity than ever. A revolutionary resource!"
—Marshall Goldsmith, international bestselling author or editor of thirty-five books, including What Got You Here Won't Get You There and Triggers
"A must-read that offers a simple, powerful model for transforming conflict, drama, and negative energy into compassionate accountability and a stronger, more united team."
—Jon Gordon, bestselling author of The Energy Bus and The Carpenter
"Conflict without Casualties is powerful but in a practical way. Dr. Regier provides a compelling model to demonstrate how the energy created by conflict can be utilized for positive change—for individuals, within relationships, for organizations, and even for world crises. His analysis of the dynamics within the 'drama triangle' of persecutor-victim-rescuer clarifies most of the dysfunction seen in workplace relationships. The beauty of the concept, however, blossoms more fully as he describes the positive power created from the 'compassion cycle' of openness-resourcefulness-persistence. Thought-provoking yet easy to read and comprehend, this book is highly recommended to anyone interested in transforming the negative cycles in relationships (both work-based and personal) into the energy that will fuel positive growth."
—Paul White, PhD, coauthor of The 5 Languages of Appreciation in the Workplace, Rising above a Toxic Workplace, and Sync or Swim
"Nate Regier takes the old idea that creativity is the hidden purpose behind conflict and opposition in this world and applies it to many practical and important areas of human endeavor. His work with compassionate engagement can help sustain relationships of all kinds."
—Michael Meade, author of Fate and Destiny and Why the World Doesn't End
"The world needs Next Element's brilliant model for transforming conflict into productive change. Nate's book profoundly improved my mindset and gave me the tools to have powerful relationship-building conversations. I recommend it to everyone who wants to live authentically and influence others."
—Vicki Halsey, PhD, Vice President, The Ken Blanchard Companies, and author of the bestselling Brilliance by Design
"I found Conflict without Casualties to be very practical and accurate as a comprehensive approach to conflict—especially workplace conflict. I really enjoyed its thoughtfulness and sensitivity and the author's personal openness in explaining the development of the theory and steps of Next Element's compassion cycle. The examples were particularly helpful, and one of the sample quotes gave me words I can use in an upcoming conflict situation."
—Bill Eddy, coauthor of It's All Your Fault at Work and President, High Conflict Institute
"This book is a wonderful and powerful resource. I can see how ORPO can be leveraged in innovation and teams for real breakthroughs—without the casualties!"
—Chris Donlon, Senior Field Umpire and Grand Final Umpire, Australian Rules Football

About the Author
Nate Regier
is the co-founding owner and chief executive officer of Next Element, a global advisory firm specializing in building cultures of compassionate accountability. A former practicing psychologist, Regier is an expert in social-emotional intelligence and leadership, positive conflict, mind-body-spirit health, neuropsychology, group dynamics, interpersonal and leadership communication, executive assessment and coaching, organizational development, team building and change management. An international adviser, he is a certified Leading Out of Drama master trainer, Process Communication Model® certifying master trainer and co-developer of Next Element's Leading Out of Drama® training and coaching. Nate has published two books: Beyond Drama and his latest work, Conflict Without Casualties.