The Bridge to Growth
: How Servant Leaders Achieve Better Results and Why It Matters Now More Than Ever
Jude Rake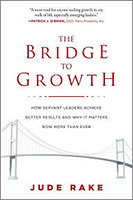 Format:
Hardcover, 168pp.
ISBN:
9781510728400
Publisher:
Skyhorse Publishing
Pub. Date:
July 4, 2017
Average Customer Review:

For Bulk Orders Call: 626-441-2024

Description and Reviews
From
The Publisher:
A recent study revealed that only 21 percent of workers feel engaged and truly committed to their company's success and goals. They don't know how their work connects to their company's goals or understand how they can help achieve them. Leaders have failed to fully engage workers in the development and execution of their company's mission and goals, and ultimately its journey toward success. Too often, employees are over-managed and under-led.
Jude Rake, a business leader with more than 35 years of experience leading high-performance teams, shows how servant leaders—those who serve employees by giving them what they need to fully engage and commit to achieving the company's goals—use nine proven principles to succeed:
Grow leaders and difference makers, not just followers.
• Build and orchestrate high-performance teams more powerful than the sum of their parts.
• Focus the organization on strategic priorities, simplify operations, and accelerate progress.
• Champion the people who purchase and use your products and services.
• Cultivate a performance-based culture of innovation.
• Communicate relentlessly.
• See the world through the eyes of others.
• Be the model you want emulated.
• Coach people to achieve more than they thought possible.
The Bridge to Growth
details how to use these principles to elevate workforce engagement, collaboration, innovation, and accountability to build a bridge from strategy to exceptional execution and results.

Reviews
"A breath of fresh air that leaders can intuitively understand and quickly adopt to create positive and sustainable change in themselves, their teams, and their firms."
—Anne K. Smart, director of the Family Business Center at the Quinlan School of Business, Loyola University, Chicago
"A great book that combines the strategic rigor we needed to reimagine our business model with the operational expertise that helped us execute ambitious new plans. . . . In addition to improving our performance, we used [ Jude's] nine servant leadership principles to cultivate a higher level of trust in our organization."
—Tracy Tunney Ward, CEO, Miramar Services, Inc.
"[Jude Rake's] decades of experience and reflection have formed a compelling model of leadership principles and purpose. His devotion to servant leadership is inspiring."
—John L. Ward, clinical professor of family enterprises, Kellogg School of Management at Northwestern University
"A terrific book that happily marries principle with practice, such that each essential leadership principle is brought to life with real-world success models . . . Bravo!"
—Steve Ross, director of the book division at Abrams Artists Agency, former president and group publisher at HarperCollins, and senior VP, publisher at Random House
"I highly recommend this book because I have seen the principles detailed in action, and they work."
—William Hallock, general counsel and board director at Construction Specialties, Inc.
"Jude is one of those rare individuals who has both a strong analytical mind and genuine people skills; and over the years he honed those skills to elevate his teams and brands. This book effectively captures the strategic rigor that Jude brought to every assignment . . . a rigor that has proven to build strong leaders, organizations, and deliver results."
—Mark Pacchini, CEO of rVue Media Technology, adjunct professor at Northwestern University, and former president of FCB Advertising
"[Jude's] business achievements speak for themselves, but what is astonishing to me is his ability to get to the heart of an issue quickly. This book distills many of the lessons he learned along the way in an easy-to-digest package, and we are the beneficiaries."
—Steve Hill, president and CEO of Thermacell, LLC

About the Author
Jude Rake
is the founder and CEO of JDR Growth Partners, a leadership consulting firm. He previously served in leadership roles including CEO on three occasions, president, COO, and CMO. He built and led leadership teams that fueled significant improvements in workforce engagement and results at some of the world's best-run companies and at smaller family-owned and private equity–backed businesses. He has also served on six boards of directors. Jude has been recognized for leadership, creativity, and marketing excellence with Clio, Mobius, and Effie awards, and he received the Burnham award for innovation. He also was named a Top 100 Marketer twice by Advertising Age. He resides in Libertyville, Illinois.