The Kingdom of Happiness
: Inside Tony Hsieh's Zapponian Utopia
Aimee Groth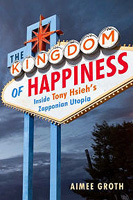 Format:
Hardcover, 336pp.
ISBN:
9781501129902
Publisher:
Touchstone
Pub. Date:
February 21, 2017
Average Customer Review:

For Bulk Orders Call: 626-441-2024

Description and Reviews
From
The Publisher:
Fearless gonzo journalism—an insider's look at the enigmatic and successful CEO of Zappos, Tony Hsieh, and his quest to create his own version of utopia in the center of Las Vegas.
In 2010 Tony Hsieh was introduced to many as a visionary modern business leader. Under Hsieh's leadership, Zappos became the world's largest online shoe company by championing satisfied customers and a valued workforce. After his company was purchased by Amazon, even as he continued as its CEO, Hsieh engaged his energies and considerable fortune toward a much larger goal: building a new and more socially conscious Silicon Valley in the heart of downtown Las Vegas, all within his five-year plan.
Hsieh challenged business and technology journalist Aimee Groth to uproot her life and participate in his social engineering experiment. Beginning with couch surfing, moving to a Downtown Project crash pad, and then living in Zappos corporate housing above the Gold Spike bar, Groth had a front-row view of Hsieh's efforts to build his ideal society.
With interviews from insiders on all ends of the Zappos spectrum—like the "broken dolls" who gravitate toward Hsieh's almost cultlike personality and make up some of his inner circle, to the Zapponians who live and work on campus, to players in the top echelon of Silicon Valley—Groth offers a unique view of a world few people know much about, and sheds a new light on this complex, eccentric man.
The Kingdom of Happiness
is the story of one man's quest to create his own nirvana in the desert based on his exacting design and experimentation with lessons he's gleaned not only from the incredible success of Zappos, but also from rave culture and Burning Man. Is it the business model of the future or a cautionary tale of hubris?

Reviews
"Remember that movie Almost Famous, about a journalist who cozies up to a rock band and its groupies, exposing them all for what they really are? That's what Groth does here, revealing a dystopia/utopia straight out of Brave New World."
—Nicholas Carlson, author of Marissa Mayer and Fight to Save Yahoo!
"Drawing on first-hand accounts, Aimee Groth's fascinating and occasionally disturbing investigation of Tony Hsieh's business practices and ideology offers a crucial warning against being seduced by the warm rhetoric and positivity of gurus."
—William Davies, author of The Happiness Industry
"Aimee Groth's reporting on Tony Hsieh's Downtown Project—the conquest and revitalization of downtown Las Vegas into a mecca for entrepreneurship intended as a counterpoint to the casino culture of Vegas' glitzy gambling Strip—has a cast of characters reminiscent of a Russian novel set in the over-stimulating atmosphere of Rio's Carnival, punctuated with all the hubris of a Greek tragedy."
—Whitney Johnson, author of Disrupt Yourself
"Aimee Groth smartly pierces the self-delusions of Silicon Valley by immersing herself in its strangest outpost — a kingdom ruled by a hard-partying CEO who rates his own happiness on a scale of one-to-ten. (He's a seven.) A must-read for anyone doubting the wisdom of letting startups (and shoe e-tailers) play social engineers."
—Greg Lindsay, author of Aerotropolis
"The Kingdom of Happiness offers a compelling look at the archetypal journey of an iconic American entrepreneur: the big ideas, the hair-raising crises, the euphoric triumphs, and the catastrophic wipeouts. Groth shines a light on the challenges of being an entrepreneur and the risks they take in the name of innovation."
—Dr. Michael Freeman, Silicon Valley psychiatrist

About the Author
Aimee Groth
is an independent business journalist who writes primarily for Quartz, a division of Atlantic Media Company. She previously served as a senior editor at Business Insider. Her work has been highlighted by several publications, including The Wall Street Journal, NPR, and the Harvard Business Review. In December 2013 she broke the news about Zappos's adoption of Holacracy, which led to coverage by dozens of news organizations around the world, including CNN and The New York Times.