Pre-Suasion
: A Revolutionary Way to Influence and Persuade
Robert Cialdini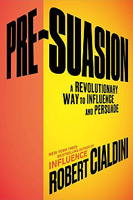 Format:
Hardcover, 432pp.
ISBN:
9781501109799
Publisher:
Simon & Schuster
Publication Date:
September 6, 2016
Average Customer Review:


For Bulk Orders Call: 626-441-2024

Description and Reviews
From
The Publisher:
The author of the legendary bestseller
Influence
, social psychologist Robert Cialdini shines a light on effective persuasion and reveals that the secret doesn't lie in the message itself, but in the key moment before that message is delivered.
What separates effective communicators from truly successful persuaders? Using the same combination of rigorous scientific research and accessibility that made his Influence an iconic bestseller, Robert Cialdini explains how to capitalize on the essential window of time before you deliver an important message. This "privileged moment for change" prepares people to be receptive to a message before they experience it. Optimal persuasion is achieved only through optimal pre-suasion. In other words, to change "minds" a pre-suader must also change "states of mind."
His first solo work in over thirty years, Cialdini's
Pre-Suasion
draws on his extensive experience as the most cited social psychologist of our time and explains the techniques a person should implement to become a master persuader. Altering a listener's attitudes, beliefs, or experiences isn't necessary, says Cialdini—all that's required is for a communicator to redirect the audience's focus of attention before a relevant action.
From studies on advertising imagery to treating opiate addiction, from the annual letters of Berkshire Hathaway to the annals of history, Cialdini draws on an array of studies and narratives to outline the specific techniques you can use on online marketing campaigns and even effective wartime propaganda. He illustrates how the artful diversion of attention leads to successful pre-suasion and gets your targeted audience primed and ready to say, "Yes."

Reviews
"The great social psychologist Robert Cialdini has written another timeless and indispensable book about the psychology of influence. I'll be recommending it for years and years."
—Amy Cuddy, author of Presence
"An utterly fascinating read on how the most important drivers of persuasion aren't the words we choose in the moment, but how we set the stage beforehand. Robert Cialdini is the world's foremost expert on influence, and you will never look at it the same way again."
—Adam Grant, author of Originals and Give and Take
"No psychologist's research has been used more often or successfully than that of Robert Cialdini, who literally "wrote the book" on influence. Now, he's done it again, showing us the power of the moment before an attempt to persuade. This is classic Cialdini—authoritative, original, and immediately practical."
—Richard H. Thaler, co-author of Nudge and author of Misbehaving
"Robert Cialdini's Influence is, by a wide margin, the book that I recommend most often. Pre-Suasion may be even more shockingly insightful."
—Chip Heath, co-author of Switch and Made to Stick
"[Pre-Suasion] is sure to be an important contribution to the fields of social psychology and behavioral economics...detailed, readable, and fascinating, this book may cause the reader to wonder whether unbiased decisions are possible."
—Publishers Weekly

About the Author
Robert Cialdini
is recognized worldwide for his inspired field research on the psychology of influence. He is a New York Times bestselling author. His books, including Influence, have sold more than three million copies in thirty-three languages. Dr. Cialdini is Regents' Professor Emeritus of Psychology and Marketing at Arizona State University and the president and CEO of Influence at Work, an international company that provides keynotes and influence training on how to use the lessons in Dr. Cialdini's books ethically and effectively.