The Narcissist You Know
: Defending Yourself Against Extreme Narcissists in an All-About-Me Age
Joseph Burgo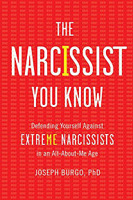 Format:
Paperback, 272pp.
ISBN:
9781476785691
Publisher:
Touchstone
Pub. Date:
September 27, 2016
Average Customer Review:

For Bulk Orders Call: 626-441-2024

Description and Reviews
From
The Publisher:
In the tradition of
The Sociopath Next Door
, clinical psychologist Joseph Burgo's
The Narcissist You Know
is a guide to help you identify, disarm, and coexist with extreme narcissists.
In today's social media and selfie-obsessed culture, we are living in an age of narcissism—and a society that often celebrates this potentially harmful trait rather than understanding it as a psychological disorder. Scientists are beginning to learn that narcissism exists on a spectrum—much like autism—and most of us exhibit some mild narcissistic tendencies. But one in twenty people fall into a category the author refers to as Extreme Narcissism, in which these self-absorbed characteristics result in destructive behavior that harms not only the individual but everyone around them, including friends, family, and coworkers.
With more than thirty years of experience studying personality disorders and treating extreme narcissists, Dr. Joseph Burgo has developed a useful guidebook to help you identify, understand, and manage narcissistic personalities. Relying on detailed profiles, vignettes from the author's practice, and celebrity biographies,
The Narcissist You Know
offers easy-to-understand tools and solutions you can use to defuse hostile situations and survive assaults on your self-esteem should you ever find yourself in an extreme narcissist's orbit.
Don't let narcissism destroy your relationships. Get the tools you need to understand, work with, and live with the narcissist you know.

Reviews
"A guide for understanding our own narcissism and for figuring out the roles these people can play in our lives. Clear, easily digestible pop psychology."
—Kirkus
"Joseph Burgo helps us recognize the variety of ways narcissism can look. By unveiling the early pain and trauma behind these extreme defenses, he not only gives us a way to make sense of these vexing and often cruel behaviors but to feel some compassion for those who, out of desperation, resort to them. A clear and useful guide to navigating the Extreme Narcissists in your life."
—Jasmin Lee Cori, MS, LPC author of The Emotionally Absent Mother and Healing From Trauma
"A terrific book! Dr. Burgo has written an extremely readable and clear exploration of Extreme Narcissists. He presents effective strategies for protecting your emotional well-being and your self-worth from their bewildering and often destructive behavior. I highly recommend this timely and important book."
—Susan Forward, PhD author of Toxic Parents and Mothers Who Can't Love
"Dr. Burgo explores the many faces of narcissistic personality, among the least studied and understood of psychiatric conditions. In layman's language he describes various sub types of narcissism, venturing past the usual stereotypes of unsympathetic and unlikable grandiosity. Dr. Burgo presents guidance in dealing with 'the narcissist you know.'"
—Jerold J. Kreisman, MD co-author of I Hate You, Don't Leave Me: Understanding the Borderline Personality
"Engaging and spot on! Joseph Burgo explains the many faces of Extreme Narcissism and what you need to know to stay out of trouble."
—Sandy Hotchkiss, LCSW author of Why Is It Always About You?: The Seven Deadly Sins of Narcissism
"Aninteresting and insightful book on a problem that confuses and frustratesalmost everyone: narcissists and narcissistic personality disorder. As theworld catches on to the importance of dealing with narcissists effectively,this book will be one of the primers. It describes a wide range of theirdysfunctional dynamics, as well as revealing many of their childhood traumas. Dr.Burgo has provided an important blend of wariness and empathy -- both fornarcissists and for those who know them all too well."
—Bill Eddy co-author of It's All Your Fault at Work: Managing Narcissists and Other High-Conflict People
"A smart, fresh, andinvaluable guide to the types of narcissists and their behaviors, as wellas life- and soul-saving advice on how to deal with them or fend themoff."
—Peg Streep author of Mean Mothers
"Freshinsight into the troubling narcissism epidemic, providing us with signs to helpus recognize and disarm 'the narcissist we know.' A fascinating, timely bookby a leading expert who offers a real guide to dealing with self-absorbedindividuals in our 'all-about-me' culture. Highly recommended!"
—Michele Borba, PhD author of UnSelfie

About the Author
Joseph Burgo
, PhD, has practiced psychotherapy for more than thirty years and held licenses as a marriage and family therapist and clinical psychologist. He earned his undergraduate degree in English Literature at UCLA and both his masters and doctorate in Psychology at California Graduate Institute in Los Angeles. Dr. Burgo has been quoted or featured as an expert on NPR and in publications such as USA TODAY, Glamour, The New York Times, and numerous other publications. As a writer on mental health topics, he is a regular contributor to The Atlantic and a frequent blogger for Psychology Today.

Find Items On Similar Subjects

Narcissistic Leaders
: Who Succeeds and Who Fails