A Curious Mind
: The Secret to a Bigger Life
Brian Grazer and Charles Fishman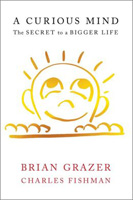 Format:
Paperback, 320pp.
ISBN:
9781476730776
Publisher:
Simon & Schuster
Pub. Date:
April 16, 2016
Average Customer Review:

For Bulk Orders Call: 626-441-2024

Description and Reviews
From
The Publisher:
From Academy Award–winning producer Brian Grazer and acclaimed business journalist Charles Fishman comes a brilliantly entertaining peek into the weekly "curiosity conversations" that have inspired Grazer to create some of America's favorite and iconic movies and television shows—from 24 to A Beautiful Mind.
For decades, film and TV producer Brian Grazer has scheduled a weekly "curiosity conversation" with an accomplished stranger. From scientists to spies, and adventurers to business leaders, Grazer has met with anyone willing to answer his questions for a few hours. These informal discussions sparked the creative inspiration behind many of Grazer's movies and TV shows, including Splash, 24, A Beautiful Mind, Apollo 13, Arrested Development, 8 Mile, J. Edgar, Empire, and many others.
A Curious Mind
is a brilliantly entertaining, fascinating, and inspiring homage to the power of inquisitiveness and the ways in which it deepens and improves us. Whether you're looking to improve your management style at work or you want to become a better romantic partner, this book—and its lessons on the power of curiosity—can change your life.

Reviews
"A Curious Mind is a window on Brian Grazer's restless, relentless, remarkable imagination. It is a captivating account of how the simple act of asking questions can change your life."
—Malcolm Gladwell Bestselling Author of The Tipping Point, Blink, Outliers, What the Dog Saw, and David and Goliath
"In A Curious Mind, Brian Grazer not only captures the essence and the potential of a great, curious mind, but he provides a wonderful perspective on what curiosity has meant to him and how it shaped his long and very successful career. As a close friend, I've had a front row seat to Brian's curious mind, and the energy his curiosity generates is infectious and thoroughly enjoyable to observe and experience."
—Bob Iger Chairman and CEO of The Walt Disney Company
"As Brian's friend and partner, while reading A Curious Mind I was returned to many key turning points in our movies and TV shows that were inspired by experiences he gained on his unique quest for understanding. I also learned a hell of a lot that I didn't actually know, even after thirty years. How is that possible? Well, Brian is a hell of a storyteller."
—Ron Howard Chairman of Imagine Entertainment and Academy Award-Winning Director
"To read a book written by one of the most creative and high quality human beings talking about his love affair with curiosity and how it can help you to have a more rewarding life is a real privilege."
—Robert K. Kraft Owner of the Kraft Group/New England Patriots
"To have a great life, you need to be curious. Curiosity is what makes us human and moves our world forward. Brian Grazer tells this story in an exceptional way and demonstrates how everyone can tap into curiosity to live a bigger life."
—Eric Schmidt CEO of Google
"A powerful tribute to the ways innovation and disruptive thinking stem from a common trait: curiosity. Because the little girl who asks 'Why is the sky blue?' becomes the woman who can change the world."
—Sheryl Sandberg COO of Facebook and Founder of LeanIn.Org
"Curiosity leads to insights and fuels the creative process – and nobody knows more about curiosity than Brian Grazer. In his delightful book, A Curious Mind, we get to see that curiously creative process in action."
—Dick Costolo CEO of Twitter

About the Authors
Brian Grazer
is the Academy Award–winning producer of A Beautiful Mind, Apollo 13, Splash, Arrested Development, 24, 8 Mile, J. Edgar, Empire, and many more. His films and TV shows have been nominated for forty-three Academy Awards and 131 Emmys. In 2007, he was named one of Time's 100 Most Influential People in the World.
Charles Fishman
is the acclaimed author of The Wal-Mart Effect and The Big Thirst. He is a three-time winner of the Gerald Loeb Award, the most prestigious prize in business journalism.