The 5 Choices
: The Path to Extraordinary Productivity
Kory Kogon, Adam Merrill and Leena Rinne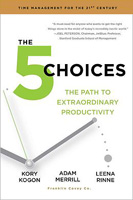 Format:
Paperback, 288pp.
ISBN:
9781476711713
Publisher:
Simon & Schuster
Pub. Date:
April 5, 2016
Average Customer Review:

For Bulk Orders Call: 626-441-2024

Description and Reviews
From
The Publisher:
The time management experts at FranklinCovey share their five critical techniques for avoiding distractions and paying focused attention to our most important goals and tasks in our daily lives.
Every day brings us a crushing wave of demands: a barrage of texts, emails, interruptions, meetings, phone calls, tweets, blogs—not to mention the high-pressure demands of our jobs—that can be overwhelming and exhausting. The sheer number of distractions can threaten our ability to think clearly, make good decisions, and accomplish what matters most, leaving us worn out and unfulfilled.
Now FranklinCovey offers powerful insights drawn from the latest neuroscience and decades of experience and research in the time-management field to help you master your attention and energy management through five fundamental choices that will increase your ability to achieve what matters most to you.
The 5 Choices
is time management redefined for the twenty-first century: it increases the productivity of individuals, teams, and organizations and empowers you to make more selective, high-impact choices about where to invest your valuable time, attention, and energy.
5 Choices are:
1. Act on the Important, Don't React to the Urgent
2. Go for Extraordinary, Don't Settle for Ordinary
3. Schedule the Big Rocks, Don't Sort Gravel
4. Rule Your Technology, Don't Let It Rule You
5. Fuel Your Fire, Don't Burn Out
The 5 Choices
will not only increase your productivity, it will also provide a renewed sense of engagement and accomplishment. You will quickly find yourself moving beyond thinking, "I was so busy today, what did I actually accomplish?" to feeling confident, energized, and extraordinarily productive.

About the Authors
Kory Kogon
is FranklinCovey's Global Practice Leader for Productivity focusing her research and content development around time management, project management, and communication skills. In addition to coauthoring The 5 Choices: The Path to Extraordinary Productivity, Kory is one of the authors of Project Management for the Unofficial Project Manager, and Presentation Advantage. Prior to FranklinCovey, Kory spent six years as the Executive Vice President of Worldwide Operations for AlphaGraphics, Inc.
Adam Merrill
is vice president of innovation for FranklinCovey, where he leads the effort for developing award-winning content that helps individuals and organizations become dramatically more productive. Adam has been researching time management and productivity topics around the globe for over twenty-five years, with particular emphasis on the impact of changing technology on how people succeed in a digital world. In addition, he is also deeply immersed in the impact physical and mental health have on one's ability to be productive and make good decisions.
Leena Rinne
is a senior consultant with FranklinCovey. In her role, she works with clients to increase productivity and develop leaders in their organizations. Leena works with a wide variety of organizations, ranging from Fortune 100 companies to small, locally owned businesses.