The Four Dilemmas of the CEO
: Mastering the make-or-break moments in every executive's career
Tom Biesinger, Ross Wall and Clifford Herbertson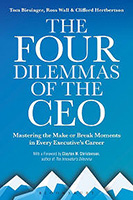 Format:
Paperback, 192pp.
ISBN:
9789386432896
Publisher:
Bloomsbury Business
Pub. Date:
July 26, 2017
Average Customer Review:

For Bulk Orders Call: 626-441-2024

Description and Reviews
From
The Publisher:
Momentum is your greatest ally--with it you can do anything, without it you will stall. As CEO you hate surprises, especially the kind that undermines momentum--yours or the organization you lead.
Every CEO's journey is unique. However, there exists a very predictable, but previously unknown pattern: the CEO life cycle.
The Four Dilemmas of the CEO
outlines the common challenges that every CEO will face during their tenure, irrespective of geography or industry. Once understood, action can be taken to break through these glass ceilings that cause CEOs to get stuck in the business, while their mandate for working on the business is continually diverted.
Framed within the life cycle of a CEO, the Four Dilemmas are:
1. You're in charge of everything, but cannot completely trust anything.
2. You know that today's executive cannot deliver tomorrow's results.
3. How do you engage the full capability of your executive working on the business when they are at capacity working
in
the business?
4. At what point does the price of remaining personally relevant outweigh your other options?
In the first book to focus on these four issues collectively, the authors draw on their decades of experience as trusted advisers across a range of industries to show every executive how to recognize and anticipate the individual dilemmas, master them, and accelerate through them.

Reviews
"If you insist on remaining a CEO, then do yourself a favor and read this book. It will reveal the dilemmas you will face during your tenure, provide you sage advice on how to overcome them, and help you achieve sustainable success."
—Clayton M. Christensen, Professor of Business Administration, Harvard Business School, and author of 'The Innovator's Dilemma'
"The authors' breadth of experience in both consulting and operations make them uniquely qualified to discuss the many challenges that the CEOs of today face. This will be an enlightening read for current CEOs and anyone who will someday have the challenging opportunity of leading a business or charitable organization."
—Richard E. Marriott, Chairman of the Board, Host Hotels & Resorts, Inc.
"I think every CEO and aspiring CEO should read this book. They will learn from it and be challenged. It presents an insightful and compelling framework on how to be a CEO from day one to retirement."
—John Allan, Chairman Tesco PLC, Barratt Developments and London First
"If only I could have read this book years ago, I could avoided many of the mistakes I made in my years as a CEO. Even when I eventually got things to the right place, I could have reached the destination much sooner and on a straighter path."
—Jim McCurry, Former Partner of Bain & Company and CEO of multiple companies

About the Author
Tom Biesinger
,
Ross Wall
and
Clifford Herbertson
are founding partners of Teallach, an exclusive consulting firm that works with mid-large cap CEOs, their boards and executive committees. They specialize in shaping executives and creating breakthrough organizations through the application of their specialized and experience-based skill set to help unlock the true 'human capital' potential of an organization.
Tom, Ross and Clifford have each lived and worked extensively in the Americas, Australasia, Africa, Europe and the Middle East; developed their own business portfolios; and been intimately involved, as peers and advisors, at the senior-most levels of industry. Using their 'human capital' predictive analytics, they have brought disruption, transparency and breakthrough to the areas of retail, technology, communications, healthcare and financial services, to name just a few. As seasoned professionals, whose knowledge has been forged in the crucible of experience, they offer decades of learned, refined, practised and proven methodologies, tools and insights, applicable to executives everywhere.