Mastering Civility
: A Manifesto for the Workplace
Christine Porath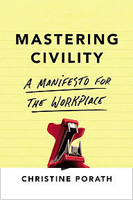 Format:
Hardcover, 240pp.
ISBN:
9781455568987
Publisher:
Grand Central Publishing
Publication Date:
December 27, 2016
Average Customer Review:

For Bulk Orders Call: 626-441-2024

Description and Reviews
From
The Publisher:
From the leading authority on workplace incivility, Christine Porath, shows why it pays to be civil, and reveals just how to enhance effectiveness in the workplace and beyond by mastering civility.
Incivility is silently chipping away at people, organizations, and our economy. Slights, insensitivities, and rude behaviors can cut deeply and hijack focus. Even if people want to perform well, they can't. Ultimately incivility cuts the bottom line.
In MASTERING CIVILITY, Christine Porath shows how people can enhance their influence and effectiveness with civility. Combining scientific research with fascinating evidence from popular culture and fields such as neuroscience, medicine, and psychology, this book provides managers and employers with a much-needed wake-up call, while also reminding them of what they can do right now to improve the quality of their workplaces.

Reviews
"Christine Porath covers major issue facing businesses and society today. In MASTERING CIVILITY, learn what incivility is costing leaders and organizations and what to do about it. Along with being a fascinating read, this book offers the key to a healthier, happier, more productive workplace, better customer relationships, and higher profits."
—Marshall Goldsmith, the Thinkers50 #1 Leadership Thinker in the World
"In her important new book, Christine Porath incisively explores the epidemic of incivility that has infected our workplaces and lives. But rather than simply decry the disease, Porath offers bright, brilliant suggestions for a cure. For anyone troubled by our current culture of coarseness-and that should be all of us-MASTERING CIVILITY is the right book at the right time. It is a must read for every leader in every field."
—Daniel H. Pink, New York Times bestselling author of Drive and To Sell is Human
"Backed up with real science and compelling stories, MASTERING CIVILITY powerfully illuminates why the smallest behaviors have the biggest effects on relationships, teams, and entire companies. Even better, Dr. Porath provides practical, proven steps to diagnosing yourself and your environment and a roadmap to building a better workplace, and a better you."
—Laszlo Bock, Senior Vice President of People Operations at Google, and New York Times bestselling author of Work Rules!
"If you see rude people at work, this book is for you. Christine Porath shows that even just being near incivility is enough to shatter your focus and stifle your success, and offers practical insights for creating more humane organizations."
—Adam Grant, New York Times bestselling author of Originals and Give and Take

About the Author
Christine Porath
is Associate Professor of Management at the McDonough School of Business at Georgetown University. Porath travels the world working with leading organizations such as Google and the International Monetary Fund to help them solve the vexing problem of incivility.