The Creator's Code
: The Six Essential Skills of Extraordinary Entrepreneurs
Amy Wilkinson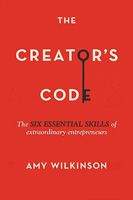 Format:
Paperback, 240pp.
ISBN:
9781451666076
Publisher:
Simon & Schuster
Pub. Date:
March 22, 2016
Average Customer Review:

For Bulk Orders Call: 626-441-2024

Description and Reviews
From
The Publisher:
Each of us has the capacity to spot opportunities, invent products, and build businesses—even $100 million businesses.
How do some people turn ideas into enterprises that endure? Why do some people succeed when so many others fail?
The Creator's Code
unlocks the six essential skills that turn small notions into big companies. This landmark book is based on 200 interviews with today's leading entrepreneurs including the founders of LinkedIn, Chipotle, eBay, Under Armour, Tesla Motors, SpaceX, Spanx, Airbnb, PayPal, Jetblue, Gilt Groupe, Theranos, and Dropbox.
Over the course of five years, Amy Wilkinson conducted rigorous interviews and analyzed research across many different fields. From the creators of the companies ranging from Yelp to Chobani to Zipcar, she found that entrepreneurial success works in much the same way. Creators are not born with an innate ability to conceive and build $100 million enterprises. They work at it. They all share fundamental skills that can be learned, practiced, and passed on.
The Creator's Code
reveals six skills that make creators of all kinds of endeavors breakthrough. These skills aren't rare gifts or slim chance talents. Entrepreneurship, Wilkinson demonstrates, is accessible to everyone. The book's insights provide core guidance for success in the new world of work.

Reviews
"Creators is the inspiring story of the men and women who are changing our world. Amy Wilkinson has cracked their code and given us all ways to join their ranks. This book is a game-changer and a life-changer."
—Tom Peters, author of In Search of Excellence
"Based on 200 interviews with entrepreneurs, this book helps explain the skills needed to be a successful innovator. It's a great guide filled with smart rules for both starting a business and bringing it to scale."
—Walter Isaacson
"Amy Wilkinson promises brilliant insight and delivers. If you're an entrepreneur or a corporate executive working to stay ahead of the curve, read this book ASAP!"
—Joanna Barsh, McKinsey & Company director emeritus and author, Centered Leadership
"A leading talent of her generation, Amy Wilkinson has poured five years into wresting secrets of success from 200 top entrepreneurs and then boild what she learned into six essential skills. The result is a fresh, insightful book."
—David Gergen, professor of Public Service, codirector of the Center for Public Leadership, Harvard Kennedy School of Government
"The shelves groan with books written by entrepreneurs claiming to reveal their unique formula for success. But I like Amy Wilkinson's more comprehensive, analytical approach. She's interviewed hundreds of entrepreneurs, and from that stack of data has distilled the skills that allowed them to rise to the top. The good news? These are skills that anyone can develop. The added bonus? Wilkinson has a ton of great stories and she tellsthem well."
—Daniel H. Pink, author of To Sell is Human and Drive
"The Creator's Code provides a roadmap for the next generation of entrepreneurs. Amy Wilkinson's insights about entrepreneurship, in combination with stories of successes and failures, serves as an inspiration for those looking to create and build new businesses."
—Steve Case, cofounder of AOLand Chairman of UP Global
"This book isn't armchair rumination. It's required reading for anyone lookingto build the next big thing."
—David Kelley, cofounder of IDEO and the Stanford d.School
"Great entrepreneurs make complexity simple. Amy Wilkinson has done just that. This book offers invaluable clarity on the messy process of building a breakthrough business. An inspiring read for those who will shape the future."
—Matt Cohler, general partner at Benchmark

About the Author
Amy Wilkinson
is a strategic adviser, entrepreneur, and lecturer at the Stanford Graduate School of Business. She frequently addresses corporate, association, and university audiences on entrepreneurial leadership. She also advises startups and large corporations on innovation and business strategy. Her career spans leadership roles with McKinsey & Company and JP Morgan and as founder of a small foreign-based export company. Wilkinson has served as a White House Fellow in the Office of the United States Trade Representative and as a senior fellow at the Harvard Kennedy School. Learn more about her work at AmyWilkinson.com.