Practical Genius
: The Real Smarts You Need to Get Your Talents and Passions Working for You
Gina A Rudan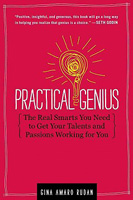 Format:
Hardcover, 224pp.
ISBN:
9781451626056
Publisher:
Touchstone
Pub. Date:
Janaury 8, 2013
Average Customer Review:

For Bulk Orders Call: 626-441-2024

Description and Reviews
From
The Publisher:WHAT'S YOUR GENIUS?
Most people consider genius to be a gift, a "lightning bolt from the gods" that strikes people like Einstein or Mozart, but not the rest of us. They see it as a quality—like creativity—that has a magical, exclusive, elusive connotation.
That is simply not true, says Gina Rudan. Every one of us has a capacity for genius. Anyone is capable of achieving something so extraordinary that it could change the game for you, your business, and every aspect of your life. In Practical Genius, Rudan shows you how to:
• Identify your genius
• Express it in everyday life
• Surround yourself with genius
• Sustain genius for a lifetime of personal and professional satisfaction
• Market your genius to others
Each stage features exercises to guide you along the way, leaving you feeling accomplished and ready for the next stage. The outcome is a profound revelation: You have the tools and ability to realize greatness both in and out of the workplace.
UNLEASH YOUR GENIUS
Forget what you think you know about genius. It's not about having a Mensa I.Q. or painting the Sistine Chapel. Everyone's got genius, but it's up to you to find it, put it to work, and watch it change your life. With the help of
Practical Genius
, you will:
Identify your genius. Where do your passions and your talents meet? (page 23)
Express your genius. What's your story, and how do you share it with others? (page 57)
Surround yourself with genius. Who do you need in your tribe? (page 93)
Sustain your genius. How do you feed and care for your genius? (page 135)
Market your genius. Why are your contradictions actually your largest competitive advantage? (page 165)

Reviews
"Practical Genius combines unstoppable optimism with unflinching straight talk to coach you through the process of uncovering your talents and putting them to work. There's a genius inside you, and Gina Rudan is the person to help you let it out."
—Daniel H. Pink, author of Drive and A Whole New Mind
"Practical Genius is the kind of book whose time has come. Its message is must reading for those who want to live and contribute fully—and who don't want an illness or accident to be their wake-up call!"
—Christiane Northrup, M.D., author of Women's Bodies, Women's Wisdom
"Gina motivates people to life-transforming action with her witty, manifesto-style message. And she offers the inspiration and skills we need to compete and succeed, but above all, to fully realize our potential."
—Naomi Wolf, author of The Beauty Myth
"Gina's vision of a world of people intensely and intuitively connected by their activated genius is gorgeous. Practical Genius sets an exciting course for the individual and the community, and it's a journey not to be missed."
—Jeff Rosenthal, Co-Founder of Summit Series

About the Author
Gina Rudan
is the founder and President of Genuine Insights Inc., a contemporary professional development and training practice. Before launching her own firm, Gina worked at Fortune 500 companies including Avon Products and PR Newswire. She lives in Miami with her husband and son.