Millennials Matter
: Proven Strategies for Building Your Next-Gen Leader
Danita Bye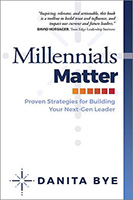 Format:
Hardcover, 256pp.
ISBN:
9781424555581
Publisher:
Broadstreet Publishing Group
Pub. Date:
December 12, 2017
Average Customer Review:

For Bulk Orders Call: 626-441-2024

Description and Reviews
From
The Publisher:
Successful business leaders see their experienced leaders retiring soon. Panic strikes when they see how few millennials have the leadership and sale acumen to fuel their business growth or transition.
Danita Bye is a business leader who loves millennials and believes they could be the new "greatest generation." Join her passionate journey and discover how to help young leaders get leadership traction. Learn how to:
• Identify and tackle real millennial challenges.
• Tap into millennial strengths and talents.
• Develop capable next-gen leaders of character.
• Build a bench of engaged and focused young team players.
• Leverage millennials' skills and grow your business
• Set the stage for your business transition.
• Leave a legacy of wisdom and strength.
Millennials Matter
will provide you with coaching inspiration and practical action steps to harness the strengths of your millennial leaders so they become one of your biggest business assets and a testimony to your leadership legacy.

Reviews
Millennials Matter
is packed with tips for connecting with, mentoring, and developing the leaders of the future. I know from experience that for seasoned leaders, there is no greater joy than mentoring a first-time manager. Why? Because mentor and mentee learn so much from each other in the process! Danita Bye has written a fabulous guidebook for leaders in every generation. Read it and make a connection!
—Ken Blanchard, coauthor of The New One Minute Manager® and Lead Like Jesus Revisited
Timely and on point,
Millennials Matter
is filled with truths you and your team can act on to make a difference in your future and our future. Inspiring, relevant, and actionable, this book is a toolbox to build trust and influence, and impact our current and future leaders. We need to do this now!
—David Horsager, Trust Edge Leadership Institute
Danita Bye's passion to see the next generation realize their God-given potential comes through in
Millennials Matter.
This timely and engaging book equips leaders to better understand and effectively invest in millennials. It should be on the reading list of every CEO, supervisor, teacher, pastor, coach, counselor, parent, and more.
—Hal Donaldson, President, Convoy of Hope; Author, Your Next 24 Hours: One Day of Kindness Can Change Everything
Millennials Matter
is a must read for anyone interested in preparing new leaders to meet the challenges of the future. Danita Bye leads us through the steps to help develop values-based differentia in emerging adults and gives us the tools to discover the potential in others to lead. Reading this book will compel you to evaluate your responsibility to transfer your leadership attributes to those who follow.
—Ed Schafer, Governor of North Dakota (1992 2000); US Secretary of Agriculture (2008)
The future favors those leaders who effectively engage upcoming generations. Leaders leverage change for strategic advantage!
Millennials Matter
is a timely, provocative resource to help any manager play offense in this high potential generational transition. God has seeded this generation with eternal potential. Will you unleash it?
—Mike Sharrow, President & CEO, The C12 Group, LLC
In
Millennials Matter
, Danita Bye has identified the importance of equipping the millennial generation to succeed owners transitioning out of their businesses. In this historically largest ever transfer of generational wealth, Danita's focus is to mentor, coach, and mobilize the millennial generation to lead companies to even greater levels, while at the same time preserving the legacy of the business owner.
—Rob Gales, Managing Director, VERCOR

About the Author
Danita Bye
is founder and CEO of Sales Growth Specialists, a leadership and sales development firm that partners with business owners to improve sales performance as part of their growth strategy. These core strategies propel her clients' businesses to the next level through consulting, training, coaching, and recruiting. Danita gained valuable experience at Xerox Corporation in sales and later, as an owner and manager of a turnaround medical device sales team. She excelled as a sales person, but her greatest success was her ability to find and mentor young talent. Danita saw firsthand how character-based leadership can impact the bottom line as well as young professionals she coached. With a practical, rubber-meets-the-road style that focuses on values and character-based success, Danita strives to help experienced leaders gain an understanding of the importance of their role in shaping young leaders. Her vision is in energizing and equipping leaders of character with the skills and tools to coach millennials, our future leaders. She believes that leaders build leaders.