Playing to Win
: How Strategy Really Works
A.G. Lafley and Roger L. Martin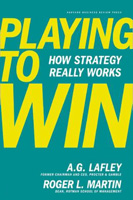 Format:
Hardcover, 272pp.
ISBN:
9781422187395
Publisher:
Harvard Business Review Press
Pub. Date:
February 5, 2013
Average Customer Review:

For Bulk Orders Call: 626-441-2024

Description and Reviews
From
The Publisher:
Are you just playing—or playing to win?
Strategy is not complex. But it is hard. It's hard because it forces people and organizations to make specific choices about their future—something that doesn't happen in most companies.
Now two of today's best-known business thinkers get to the heart of strategy—explaining what it's for, how to think about it, why you need it, and how to get it done. And they use one of the most successful corporate turnarounds of the past century, which they achieved together, to prove their point.
A.G. Lafley, former CEO of Procter & Gamble, in close partnership with strategic adviser Roger Martin, doubled P&G's sales, quadrupled its profits, and increased its market value by more than $100 billion in just ten years. Now, drawn from their years of experience at P&G and the Rotman School of Management, where Martin is dean, this book shows how leaders in organizations of all sizes can guide everyday actions with larger strategic goals built around the clear, essential elements that determine business success—where to play and how to win.
The result is a playbook for winning. Lafley and Martin have created a set of five essential strategic choices that, when addressed in an integrated way, will move you ahead of your competitors. They are:
What is our winning aspiration?
Where will we play?
How will we win?
What capabilities must we have in place to win?
What management systems are required to support our choices?
The stories of how P&G repeatedly won by applying this method to iconic brands such as Olay, Bounty, Gillette, Swiffer, and Febreze clearly illustrate how deciding on a strategic approach—and then making the right choices to support it—makes the difference between just playing the game and actually winning.

Reviews
"Reading Playing to Win is like having prime seats at the Super Bowl of strategy. You'll learn the strategies consumer goods powerhouse Procter & Gamble uses to get its innovative products into millions of homes—plus tested methods for winning your own marketplace contests. If you're a marketer or a leader, you need to read this book."
—Daniel H. Pink, author, Drive and A Whole New Mind
"This is the best book on strategy I have ever read. Lafley and Martin get to the heart of what's important: how to make choices in order to control events rather than allowing events to control your choices. Everyone wants to win; this book sets down with calm authority the steps you must take to turn aspiration into reality."
—Sir Terry Leahy, former CEO, Tesco
"Lafley and Martin teach us how to develop and then how to deploy strategy. Their recommendations apply at every level—corporation, business units, products, and teams. This is a great book."
—Clayton M. Christensen, Kim B. Clark Professor of Business Administration, Harvard Business School; author, The Innovator's Dilemma
"Most authors conduct research before they write a book. Lafley and Martin went out and did something. They used their simple, subtle framework—Where will we play? How will we win?—to double the value of one of the world's greatest businesses. And now they're showing you how to do the same. Read this book. . . before your competitors find it."
—Chip Heath, coauthor, Decisive: How to Make Better Choices in Life and Work
"Playing to Win is a rare combination of depth of thinking and ease of use. It clearly explains what business strategy is and isn't, and how to develop it. Lafley and Martin distill their hard-won experiences and offer insights, practical hands-on tools, and tips that will inspire and allow you to think strategically in new ways about your own business."
—Jørgen Vig Knudstorp, CEO, Lego Group
"A great CEO and a renowned educator join forces to create a must-read for anyone thinking about strategy."
—Jack Welch, former Chairman and CEO, General Electric
"Here is business strategy through the eyes of the man who led Procter & Gamble's stunning turnaround and success in the 2000s and the strategist who advised and worked with him. Lush with insights that show the "what" and the "how" of two master strategists."
—Scott Cook, cofounder and Chairman of the Executive Committee, Intuit
"Lafley and Martin have invested their respective careers in understanding the complexity of strategy. What has emerged in this seminal work is a simple and rich framework that can help business leaders think through strategic choices. It is an eminently helpful guide to choice making, which is the most essential part of leadership."
—James P. Hackett, President and CEO, Steelcase Inc
"Playing to Win is an insightful do-it-yourself guide that demystifies what it takes to craft, implement, and continuously improve effective business strategies. Using relevant, real-world examples, Lafley and Martin offer proven techniques for competing and winning in today's challenging global business environment."
—Jim McNerney, President, CEO, and Chairman, Boeing
"I love this book; it is thought provoking and acts as a catalyst to ask questions—about ourselves and our business life course. In a day and age when information and instant communication are relentless components of business and our lifestyle, A. G. Lafley and Roger Martin suggest we take an important pause to actually question our strategic road maps and the associated plans we need in order to succeed in this marketplace."
—Thomas Tull, founder and CEO, Legendary Pictures

About the Author
A.G. Lafley
is the former Chairman of the Board, President, and Chief Executive Officer of Procter & Gamble. Under Lafley's leadership, P&G's sales doubled, its profits quadrupled, its market value increased by more than $100 billion, and its portfolio of billion-dollar brands—like Tide, Pampers, Olay, and Gillette—grew from 10 to 24 as a result of his focus on winning strategic choices, consumer-driven innovation, and reliable, sustainable growth. Today, Lafley consults on business and innovation strategy, advises on CEO succession and executive leadership development, and coaches experienced, new, and potential CEOs.
Roger Martin
is Dean of the University of Toronto's Rotman School of Management and an adviser to CEOs on strategy, design, innovation, and integrative thinking. In 2011, Roger was named by Thinkers50 as the sixth top management thinker in the world. This is his eighth book; he also contributes regularly to Harvard Business Review, the Financial Times, and the Washington Post, among others. He holds an MBA from Harvard Business School and an AB in economics from Harvard College.