Global Dexterity
: How to Adapt Your Behavior Across Cultures without Losing Yourself in the Process
Andy Molinsky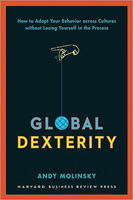 Format:
Hardcover, 240pp.
ISBN:
9781422187272
Publisher:
Harvard Business Review Press
Pub. Date:
March 12, 2013
Average Customer Review:

For Bulk Orders Call: 626-441-2024

Description and Reviews
From
The Publisher:
"I wrote this book because I believe that there is a serious gap in what has been written and communicated about cross-cultural management and what people actually struggle with on the ground."—From the Introduction
What does it mean to be a global worker and a true "citizen of the world" today? It goes beyond merely acknowledging cultural differences. In reality, it means you are able to adapt your behavior to conform to new cultural contexts without losing your authentic self in the process. Not only is this difficult, it's a frightening prospect for most people and something completely outside their comfort zone.
But managing and communicating with people from other cultures is an essential skill today. Most of us collaborate with teams across borders and cultures on a regular basis, whether we spend our time in the office or out on the road. What's needed now is a critical new skill, something author Andy Molinsky calls global dexterity.
In this book Molinsky offers the tools needed to simultaneously adapt behavior to new cultural contexts while staying authentic and grounded in your own natural style. Based on more than a decade of research, teaching, and consulting with managers and executives around the world, this book reveals an approach to adapting while feeling comfortable—an essential skill that enables you to switch behaviors and overcome the emotional and psychological challenges of doing so.
From identifying and overcoming challenges to integrating what you learn into your everyday environment, Molinsky provides a guidebook—and mentoring—to raise your confidence and your profile. Practical, engaging, and refreshing, Global Dexterity will help you reach across cultures—and succeed in today's global business environment.

Reviews
"Global Dexterity truly resonates. As an HR executive with over thirty years of experience in global companies, I can see a real advantage in using the book's tips and techniques to help manage and communicate with people from around the world!"
—Ted Manley, VP, Total Rewards and HR Operations, Dunkin' Brands Inc.
"Andy Molinsky shows us that successful leaders crack the code of foreign cultures and adjust their behavior accordingly. Then he explains how it's done. Global Dexterity is an indispensable guide for managing a globalizing world."
—Steven A. Rochlin, Member of the Board of Directors and Head of Global Advisory Services, AccountAbility; coauthor, Beyond Good Company and Untapped
"The future will be shaped by people who can effectively live and work across cultural differences. Andy Molinsky provides a series of simple and effective tools for helping people understand where cultural differences come from and for helping us, as individuals, develop our own capacity to bridge those differences effectively. Global dexterity is an important concept, and this is an important book."
—Adam Weinberg, President and CEO, World Learning
"Global Dexterity provides a clear road map to conquer the quest for cultural diversity, which is critical in today's flat world. The self-assessments on identifying cultural gaps and working on a personal mind-set to overcome them will prove handy to anyone working in a new cultural environment."
—Mansi Madan Tripathy, Chief Marketing Officer, Shell India
"Andy Molinsky does a masterful job of demystifying the challenges one faces working in or with other cultures. His book is as insightful as it is practical. In a world in which you need to both understand and adapt to cultural differences, this is the book to read."
—Matthias Kempf, Director, HR Talent Europe, adidas Group

About the Author
Andy Molinsky
is an associate professor at Brandeis University's International Business School. He specializes in cross-cultural interaction in business settings and has created a popular MBA course focused on cross-cultural adaptation. He has published widely on the topic of cultural adaptation; his work has been featured by a range of media outlets including the Financial Times, the Boston Globe, NPR, and Voice of America.