Worthless, Impossible and Stupid
: How Contrarian Entrepreneurs Create and Capture Extraordinary Value
Daniel Isenberg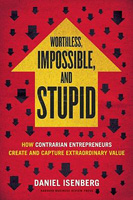 Format:
Hardcover, 304pp.
ISBN:
9781422186985
Publisher:
Harvard Business Review Press
Pub. Date:
July 9, 2013
Average Customer Review:

For Bulk Orders Call: 626-441-2024

Description and Reviews
From
The Publisher:
Introducing the global mind-set changing the way we do business.
In this fascinating book, global entrepreneurship expert Daniel Isenberg presents a completely novel way to approach business building—with the insights and lessons learned from a worldwide cast of entrepreneurial characters. Not bound by a western, Silicon Valley stereotype, this group of courageous and energetic doers has created a global and diverse mix of companies destined to become tomorrow's leading organizations.
Worthless, Impossible, and Stupid is about how enterprising individuals from around the world see hidden value in situations where others do not, use that perception to develop products and services that people initially don't think they want, and ultimately go on to realize extraordinary value for themselves, their customers, and society as a whole. What these business builders have in common is a contrarian mind-set that allows them to create opportunities and succeed where others see nothing. Amazingly, this process repeats itself in one form or another countless times a day all over the world.
From Albuquerque to Islamabad, you will travel with Isenberg to discover unusual yet practical insights that you can use in your own business. Meet the founders of Grameenphone in Bangladesh, PACIV in Puerto Rico, Sea to Table in New York, Actavis in Iceland, Studio Moderna in Slovenia, Hartwell Metals in Hong Kong and Southeast Asia, Given Imaging in Israel, WildChina in China, and many others. You'll be moved by the stories of these plucky start-ups—many of them fueled by adversity and, more often than not, by necessity.
Great stories, stunning successes, crushing failures—they're all here. What can we, in the East and West, learn from them? What can you learn—and what will these entrepreneurial stories, so compellingly told, inspire you to do?
Let this book open doors for you where you once saw only walls. If you've ever felt the urge to turn a glimmer of an idea into something extraordinary, these stories are for you.

Reviews
"Worthless, Impossible, and Stupid is a thought-provoking book for anyone interested in understanding the deeply contrarian nature of many entrepreneurs. It challenges the status quo definitions of entrepreneurship with substantive examples from all over the world. A must-read for building start-up communities."
—Brad Feld, Managing Director, Foundry Group; cofounder, TechStars; and author, Startup Communities: Building an Entrepreneurial Ecosystem in Your City
"Daniel Isenberg's bottom-up insights are a must-read for policymakers around the world racing to build smarter environments for starting and scaling firms."
—Jonathan Ortmans, President, Global Entrepreneurship Week, and Senior Fellow, Ewing Marion Kauffman Foundation
"Worthless, Impossible, and Stupid confounds the stereotypes. The book vividly illustrates that entrepreneurs don't all look like Steve Jobs or Mark Zuckerberg or Sergey Brin; they don't all live in Silicon Valley. And most important, they do more than create start-ups that make novel products or solve problems; they build companies of lasting value."
—Esther Dyson, Chairman, EDventure Holdings
"Daniel Isenberg manages to turn the words 'worthless, impossible, and stupid' into the highest form of praise by getting inside the minds of real-life entrepreneurs to explain how counterintuitive thinking (and a sometimes inexplicable indifference to failure) have helped create and often revolutionize global business."
—Jim McCann, founder and CEO, 1-800-Flowers.com and Celebrations.com
"Daniel Isenberg's book sheds a whole new light on the nature of entrepreneurship, of entrepreneurs, and of business opportunity more broadly. Original, thought-provoking, and fun to read, it blows up a lot of truisms about this important topic."
—Yossi Vardi, serial internet entrepreneur
"Calling all contrarians: If you've taken great risks, confronted skeptics and setbacks, and unleashed extraordinary value, you'll recognize yourself in this important new book by Daniel Isenberg. Worthless, Impossible, and Stupid perfectly captures the ups and downs of the entrepreneurial path, felling a great many myths along the way."
—Linda Rottenberg, cofounder and CEO, Endeavor Global
"This book is a real threat to conventional theories on business development. Its lessons apply in many other fields of human endeavor. Anyone interested in changing the world for the better should read it."
—Calestous Juma, professor, Harvard Kennedy School; author, The New Harvest: Agricultural Innovation in Africa
"Like Steve Jobs, Jeff Bezos, François Pinault, Diego Della Valle, and so many other great entrepreneurs, Daniel Isenberg is a contrarian and provocative thinker. Worthless, Impossible, and Stupid accurately demonstrates why being an outstanding entrepreneur is not about age, expertise, or reason; it is about vision, courage, and mind-set."
—Grégoire Sentilhes, CEO, NextStage; cofounder, G20 Young Entrepreneur Alliance
"In this provocative book, Daniel Isenberg shatters stereotypes and clarifies the often misunderstood concept of entrepreneurship. His inspiring real-life examples prove that true value is often found where many can only see something that seems worthless, impossible, or stupid."
—Akin Öngör, former CEO, Garanti Bank
"Valuable, practical, and insightful, Daniel Isenberg's new book is a very helpful and illustrative guide to the entrepreneurial journey."
—Sir Ronald Cohen, cofounder and former Chairman, Apax Partners
"Entrepreneurship is so important for a healthy economy: It creates jobs, supports communities, and builds a better working world. Worthless, Impossible, and Stupid provides a sophisticated and provocative narrative on this crucial topic."
—Maria Pinelli, Global Vice Chair of Strategic Growth Markets, Ernst & Young
"Entrepreneurs take note. Daniel Isenberg makes his contrarian point clear in this provocative book: Entrepreneurs need to be as innovative in finding ways to capture value as they are in creating it. This will be good for them individually and for the society that benefits from entrepreneurialism."
—Nick Lazaris, former CEO, Keurig
"Daniel Isenberg brings us back to the roots of entrepreneurship: It's all about identifying, creating, and capturing value, in areas not seen by others and that may seem worthless, impossible, and stupid. But there are real rewards for the hard-headed entrepreneur—and for the rest of us!"
—Mikko Kosonen, President, The Finnish Innovation Fund Sitra

About the Author
Daniel Isenberg
—entrepreneur, professor, investor, speaker, and policy adviser—is founding executive director of the Babson Entrepreneurship Ecosystem Project and Adjunct Professor at Columbia Business School. Isenberg taught for eleven years at Harvard Business School and has published dozens of HBS cases on entrepreneurial ventures around the world. He is a frequent participant at Davos and speaker at Global Entrepreneurship Week and the G20 Youth Entrepreneurship Summit, and has been quoted widely in the media.