Own the Room
: Discover Your Signature Voice to Master Your Leadership Presence
Amy Jen Su and Muriel Maignan Wilkins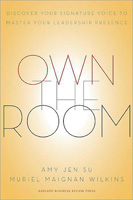 Format:
Hardcover, 240pp.
ISBN:
9781422183939
Publisher:
Harvard Business Review Press
Pub. Date:
April 16, 2013
Average Customer Review:

For Bulk Orders Call: 626-441-2024

Description and Reviews
From
The Publisher:
Find your signature voice
People are drawn to and influenced by leaders who communicate authentically, connect easily with people, and have immediate impact. So how do you become one of them? How can you learn to "own the room"? This book will help you develop your leadership presence.
According to Amy Jen Su and Muriel Maignan Wilkins, leadership presence is the ability to consistently and clearly articulate your value proposition while influencing and connecting with others. They offer a simple and compelling framework, as well as practical advice about how you can develop your own personal presence.
No matter where you sit in an organization, you can "own the room" if you are able to do two things well: first, demonstrate your authentic value and distinction, and second, connect to others in a positive way. Leaders who are able to be authentic while connecting with and impacting others have what the authors call a "signature voice"—a means of self-expression that is uniquely and distinctly their own. Once you discover and express your own signature voice, you'll be ready to take your leadership presence to the next level.
Filled with real-life stories and examples,
Own the Room
demystifies the concept of presence and gives you the tools you need to identify and embrace your unique leadership voice—and have a greater impact on the world around you.

Reviews
"Own the Room is a must-read for all emerging and experienced leaders who aspire to authentically connect with others, forge relationships, and increase their influence. The authors have provided a practical roadmap and toolkit for building leadership presence from the inside out."
—Jane Brock-Wilson, Managing Director, Berkshire Partners
"At last! For years Amy Jen Su and Muriel Maignan Wilkins have been helping leaders at Brookings Executive Education to transform their 'presence.' This book brings their critically important leadership concepts and tools to a broad audience in terms that are clear, concise, and actionable."
—Mary Ellen Joyce, PhD, Senior Director, Brookings Executive Education
"Amy Jen Su and Muriel Maignan Wilkins have finally given a descriptive voice—a signature voice—to what has been a frustratingly elusive concept. This book provides step-by-step guidance and a fresh, workable approach to identifying and making the most of one's authentic self."
—Suzanne Richards, Vice President of Diversity and Inclusion, Freddie Mac
"This is a unique and powerful book that explains the major components of leadership and effective business communication. What's special about the authors' approach is that it links professional success to accessing the unique formula in each of us . . . our signature voice."
—Joel von Ranson, Partner, Spencer Stuart
"Own the Room demystifies the notion of executive leadership 'presence.' Using a practical model and instructive case examples, the authors prove that developing presence doesn't require becoming someone else; it's a unique, signature voice that can be accessed from within."
—Bob Raidt, Executive Vice President and Worldwide Account Head, Leo Burnett USA
"I often think about my leadership presence—where I stand today and how I want to be perceived in the future. Own the Room helped me develop a clear roadmap to reach a higher level. This book is a valuable resource for all leaders."
—Tim Gray, CFO, MedImmune
"Own the Room is a must-read for anyone transitioning into, or aspiring toward, an enterprise-wide leadership position. There is an undeniable link between self-awareness and leadership. The authors' practical model and real-world examples provide an invaluable tool to transition self-awareness to self-improvement."
—Scott Burger, President, Pandora North America

About the Authors
Amy Jen Su
is managing partner and cofounder of Isis Associates, an executive training and coaching firm. She is a frequently sought-after executive coach and speaker on issues of leadership presence, communications excellence, and executive endurance—factors critical to a leader's performance success. She has a proven track record helping senior leaders clearly articulate their personal and organizational vision, maintain their personal best amid change and complexity, and influence key constituencies.
Muriel Maignan Wilkins
is managing partner and cofounder of Isis Associates. Muriel is an executive coach, a strategy expert, and a frequent speaker on issues of leadership communication. She specializes in helping leaders develop in the areas of executive presence, role transitions, and relationship management. She has served senior-level clients across a number of industries including management consulting, private equity, biotech, and financial services. Muriel was recognized by the Washington Business Journal as one of the metro-DC area's "Top Minority Business Leaders."