There Is an I in Team
: What Elite Athletes and Coaches Really Know About High Performance
Mark de Rond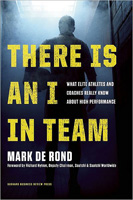 Format:
Hardcover, 208pp.
ISBN:
9781422171301
Publisher:
Harvard Business Review Press
Pub. Date:
July 3, 2012
Average Customer Review:

For Bulk Orders Call: 626-441-2024

Description and Reviews
From
The Publisher:
Foreword by Richard Hytner, Deputy Chairman, Saatchi & Saatchi Worldwide
We've all worked with one—a smart and immensely talented individual who brings enormous value to the organization. The problem? He's an awful teammate.
So as a leader, do you consider this key player toxic or irreplaceable?
There Is an I in Team
explores the relationship between individual and team—asking the question, How can we harness the talent of individual performers into a cohesive, productive team that creates overall value? And why are so many of our assumptions about teams wrong?
Business challenges like this one mimic many of the issues facing sports teams, though admittedly the sports metaphors most commonly used in business are trite and superficial comparisons. What's needed are real and substantial lessons that managers actually can take from the world of high-performance sports and use in an everyday work environment. This book meets that need.
University of Cambridge professor Mark de Rond has combined cutting-edge social and psychological research with rich stories from world-class sports teams, coaches, athletes, and even business executives. The result challenges our most popular notions about teams. Equally critical, it teaches an innovative way to transform team potential into measurable business advantage.
You'll learn:
Why there is an I in team—and why that matters
Why an ideal team is rarely comprised of the best individual performers
Why conflict happens even when intentions are perfectly aligned
Why likability can trump competence even in technically sophisticated environments
Why a focus on interpersonal harmony can actually hurt team performance
Why data and sophisticated statistical tools are unlikely to eliminate the role of intuition
At once readable and teachable,
There Is an I in Team
will strengthen your understanding of the issues that permeate teams of high-performers, and it will help you apply these new insights to your own work—giving you and your team an edge over the competition.

Reviews
"Very few business books make me stop and think. De Rond's latest work very skillfully translates the drivers of team sport excellence and positions them in the more complex business arena. A must-read for anyone striving for competitive advantage."
— Steve Hollis, Senior Partner, KPMG
"Now I understand why there is an 'I in team' and also why there is a 'star in Mark de Rond.' Thought-provoking and applicable to an extraordinarily wide range of team situations. You will think and act differently after reading this."
— Edwin Moses, Chairman and CEO, Ablynx nv
"There Is an I in Team debunks a host of commonly held beliefs about what makes teams work. An appreciation of the role of great individual performers—stars—in creating great teams is long overdue."
— Amy C. Edmondson, Novartis Professor of Leadership and Management, Harvard Business School; author, Teaming: How Organizations Learn, Innovate, and Compete in the Knowledge Economy
"This is an incredibly good book that challenges the current, and almost universal, definition of what a team is. De Rond's examination and reflections on human behavior within sport provides a highly intuitive insight into what really makes a team successful. A very enjoyable read."
— Tom James, MBE, Olympic Gold Medalist, Rowing
"Intriguing and accessible. De Rond uses research, anecdotes and analysis from the world of sport to identify the combination of art and science necessary to develop and sustain a winning team. He shows how the greatest leaders motivate the individuals that make up their teams to work together, inspire each other, perform at the highest level, and win."
— Glenn Earle, Former Chief Operating Officer, Goldman Sachs International
"There Is an I in Team challenges so many of the clichés about teamwork that we all take for granted. This is a book that is impossible to put down, yet it makes you stop, think, reflect, and question at every corner."
— Lord Bilimoria, CBE, DL, Chairman and Founder, Cobra Beer

About the Author
Mark de Rond
is an associate professor of Strategy and Organization at Judge Business School, University of Cambridge. His previous book, The Last Amateurs, was selected by the Financial Times as one of the Best Business Books of 2008 and by BBC Sport as one of the ten Best Sporting Reads of the year.