Yes to the Mess
: Surprising Leadership Lessons from Jazz
Frank J. Barrett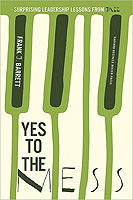 Format:
Hardcover, 240pp.
ISBN:
9781422161104
Publisher:
Harvard Business Review Press
Pub. Date:
August 14, 2012
Average Customer Review:


For Bulk Orders Call: 626-441-2024

Description and Reviews
From
The Publisher:
What Duke Ellington and Miles Davis teach us about leadership
How do you cope when faced with complexity and constant change at work? Here's what the world's best leaders and teams do: they improvise. They invent novel responses and take calculated risks without a scripted plan or a safety net that guarantees specific outcomes. They negotiate with each other as they proceed, and they don't dwell on mistakes or stifle each other's ideas. In short, they say "yes to the mess" that is today's hurried, harried, yet enormously innovative and fertile world of work.
This is exactly what great jazz musicians do. In this revelatory book, accomplished jazz pianist and management scholar Frank Barrett shows how this improvisational "jazz mind-set" and the skills that go along with it are essential for effective leadership today. With fascinating stories of the insights and innovations of jazz greats such as Miles Davis and Sonny Rollins, as well as probing accounts of the wisdom gleaned from his own experience as a jazz musician, Barrett introduces a new model for leading and collaborating in organizations.
He describes how, like skilled jazz players, leaders need to master the art of unlearning, perform and experiment simultaneously, and take turns soloing and supporting each other. And with examples that range from manufacturing to the military to high-tech, he illustrates how organizations must take an inventive approach to crisis management, economic volatility, and all the rapidly evolving realities of our globally connected world.
Leaders today need to be expert improvisers.
Yes to the Mess
vividly shows how the principles of jazz thinking and jazz performance can help anyone who leads teams or works with them to develop these critical skills, wherever they sit in the organization.
Engaging and insightful, Yes to the Mess is a seminar on collaboration and complexity, against the soulful backdrop of jazz.

Reviews
"Frank Barrett's remarkable fusion of jazz improvisation and organizational innovation promises to reshape how we think about creative work. Innovations are improvised into existence and here, for the first time, is a backstage look at how that happens."
— Karl E. Weick, Rensis Likert Distinguished University Professor, Ross School of Business; coauthor, Managing the Unexpected: Assuring High Performance in an Age of Complexity
"Barrett's insightful book shows how business can learn from the 'risky business' of jazz. Yes to the Mess is a great treatise on improvisation and on the courage to persist irrespective of a predictable outcome."
— Ellis Marsalis Jr., Professor Emeritus and Jazz Studies program founder, University of New Orleans
"Jazz provides an illuminating metaphor for managing in the knowledge era. Frank Barrett writes beautifully about leadership, learning, and innovation and pulls together great stories from a range of industry settings—from jazz performance to automotive manufacturing. Yes to the Mess is a great read, which I recommend enthusiastically."
— Amy C. Edmondson, Novartis Professor of Leadership and Management, Harvard Business School; author, Teaming: How Organizations Learn, Innovate, and Compete in the Knowledge Economy
"Yes to the Mess provides a fascinating view into the world and mind-set of jazz musicians and will stimulate you to think differently about leadership and organization. Read this book."
— Edgar H. Schein, Professor Emeritus, MIT Sloan School of Management
"This book describes a powerful and necessary paradigm shift to advance the craft of leadership in the twenty-first century. Barrett gives every aspiring leader a new model for proactively dealing with the chaos and disruption that has come to characterize the world of work in our time."
— Douglas R. Conant, former President and CEO, Campbell Soup Company; coauthor, TouchPoints: Creating Powerful Leadership Connections in the Smallest of Moments

About the Author
Frank J. Barrett
is Professor of Management and Global Public Policy at the Naval Postgraduate School in Monterey, California. He holds a PhD in Organizational Behavior from Case Western Reserve University and is an accomplished jazz musician. In addition to leading his own trios and quartets, Barrett has traveled extensively with the Tommy Dorsey Orchestra. His research interests and expertise include organizational change, social constructionism, organizational innovation, improvisation, and appreciative inquiry.

Table of Contents
| | | |
| --- | --- | --- |
| | | |
| | Preface | vii |
| | Acknowledgements | xv |
| | | |
| 1 | All that Jazz | 1 |
| 2 | "Yes to the Mess" | 21 |
| 3 | Performing and Experimenting Simultaneously | 41 |
| 4 | Minimal Structure—Maximal Autonomy | 67 |
| 5 | Jamming and Hanging Out | 93 |
| 6 | Taking Turns Soloing and Supporting | 119 |
| 7 | Leadership as Provocative Competence | 135 |
| 8 | Getting to "Yes to the Mess" | 161 |
| | | |
| | Notes | 185 |
| | Index | 193 |
| | About the Author | |