Stop Spending, Start Managing
: Strategies to Transform Wasteful Habits
Tanya Menon and Leigh Thompson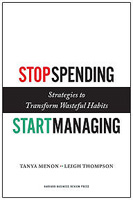 Format:
Hardcover, 208pp.
ISBN:
9781422143025
Publisher:
Harvard Business Review Press
Publication Date:
August 16, 2016
Average Customer Review:

For Bulk Orders Call: 626-441-2024

Description and Reviews
From
The Publisher:
Stop Wasting Precious Time and Money
You have a complex problem at work, and you know the standard solutions: hire a consultant, enlist a superstar employee, have more meetings about it. In short, spend money and hours to dig your way out. But you've been down this road before—the so-called solution consumes your time, dollars, and resources, and yet the problem still reappears.
There is a way out of this cycle. Organizational researchers Tanya Menon and Leigh Thompson, experts in collaboration and creativity, identify five spending traps that lead to this wasteful "action without traction":
The Expertise Trap
: recycling old solutions on current problems
The Winner's Trap
: investing additional resources into failing projects
The Agreement Trap
: avoiding conflict to feel like a team player
The Communication Trap
: communicating too frequently over too many channels
The Macromanagement Trap
: assuming your employees don't need your direction
Menon and Thompson combine their own research with other findings in psychology to provide strategies to break these unproductive habits and refine your skills as a manager. From shaping problems in new ways and learning from failure through experimentation, to stimulating productive conflict and structuring coordinated conversations, you can escape these traps and discover the value hidden in your organization—without spending a dime.

Reviews
"Stop Spending, Start Managing explores the universal pitfalls managers face and provides practical strategies for enhancing individual and team performance. The ideas in this book are easily transferable to different situations and focus on harnessing the power of multiple perspectives."
—Matt Ferguson, CEO, CareerBuilder
"This deftly written, highly readable book helps unlock one of the most important issues facing business today: how do you shift unproductive, wasteful behavior inside an organization? It teaches managers to change their mind-sets and thus save time and money and unlock hidden value within their companies."
—Gurcharan Das, author, The Difficulty of Being Good; former CEO, Procter & Gamble India
"Every manager will recognize something of themselves in the traits Tanya Menon and Leigh Thompson describe in Stop Spending, Start Managing. Their solutions and advice provide helpful routes out of the habits and behaviors we've all fallen into so that we can start to manage smarter and more productively."
—Joanne Segars, Chief Executive, Pensions and Lifetime Savings Association
"Menon and Thompson propose a host of smart and novel ways to drive performance in your organization without additional spending. Written in a concise and accessible way, this book is essential reading for leaders."
—Joachim Ringer, Co-Head, Investment Banking and Capital Markets, Germany/Austria, Credit Suisse
"Using convincing research and logic, Menon and Thompson demonstrate that successful employee teams avoid waste and create value with specific positive behaviors: recognizing unconscious bias, managing conflict as a healthy dynamic, and engaging in constructive feedback. An important read for leaders who know that talented teams, working effectively together, are the reason companies win."
—Tom Linebarger, Chairman and CEO, Cummins Inc.

About the Authors
Tanya Menon
is an associate professor at Fisher College of Business, Ohio State University. She is also an associate editor at Management Science, and her research considers how people in organizations collaborate.
Leigh Thompson
is the J. Jay Gerber Distinguished Professor of Dispute Resolution & Organizations at the Kellogg School of Management, Northwestern University. Thompson has authored several books, including Creative Conspiracy and The Truth About Negotiations.