Sidetracked
: Why Our Decisions Get Derailed, and How We Can Stick to the Plan
Francesca Gino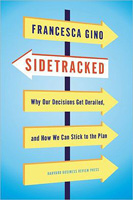 Format:
Hardcover, 272pp.
ISBN:
9781422142691
Publisher:
Harvard Business Review Press
Pub. Date:
February 26, 2013
Average Customer Review:

For Bulk Orders Call: 626-441-2024

Description and Reviews
From
The Publisher:
You may not realize it but simple, irrelevant factors can have profound consequences on your decisions and behavior, often diverting you from your original plans and desires. Sidetracked will help you identify and avoid these influences so the decisions you make do stick—and you finally reach your intended goals.
Psychologist and Harvard Business School professor Francesca Gino has long studied the factors at play when judgment and decision making collide with the results of our choices in real life. In this book she explores inconsistent decisions played out in a wide range of circumstances—from our roles as consumers and employees (what we buy, how we manage others) to the choices that we make more broadly as human beings (who we date, how we deal with friendships). From Gino's research, we see when a mismatch is most likely to occur between what we want and what we end up doing. What factors are likely to sway our decisions in directions we did not initially consider? And what can we do to correct for the subtle influences that derail our decisions? The answers to these and similar questions will help you negotiate similar factors when faced with them in the real world.
For fans of Dan Ariely and Daniel Kahneman, this book will help you better understand the nuances of your decisions and how they get derailed—so you have more control over keeping them on track.

Reviews
We are often unaware of the many forces that affect our decisions—sometimes with devastating consequences. In Sidetracked, Francesca Gino identifies and illuminates many of these forces to help us all make decisions that we, our mothers, and our kids will be happier with.
—Dan Ariely, Professor of Psychology and Behavioral Economics, Duke University; author of the New York Times bestsellers Predictably Irrational, The Upside of Irrationality, and The Honest Truth about Dishonesty
Francesca Gino is one of the smartest and most insightful decision researchers in the field. Her clever research informs every page of this book and it will change the way you think about decision making.
—Chip Heath, Professor of Organizational Behavior, Stanford Graduate School of Business; co-author, Made to Stick and Switch: How to Change Things When Change is Hard
Sidetracked is a scary, remarkably useful, and delightful romp. Scary because it shows how our imperfect brains can mess-up our decisions and our lives. Remarkably useful because it shows us how to thrive and triumph despite these imperfections. Delightful because Francesca Gino's wisdom, quirky charm, and world-class smarts enrich every page.
—Robert I. Sutton, Professor of Management Science and Engineering, Stanford Engineering School; author, Good Boss, Bad Boss and The No Asshole Rule
Sidetracked is an indispensable guide for those interested in gaining insight into how we make decisions and the invisible forces that affect the process. Could our brains really be this susceptible to outside influence? The book reveals the truth—through example after example of carefully structured research—of just how easily influenced we are and concrete strategies for how to stay on track.
—John Engates, Chief Technology Officer, Rackspace
Why do so many of our decisions go awry? Francesca Gino says the answer might be staring at us in the mirror. In Sidetracked, she reveals the many forces that distract our attention, distort our reasoning, and ultimately lead us astray. Reading this rich mix of experimental evidence and lively stories will help you rethink—and improve—how you make decisions in your life.
—Daniel H. Pink, author, Drive: The Surprising Truth About What Motivates Us and A Whole New Mind
This engaging, beautifully written, and thought-provoking book is a must read for anyone who wants a deep understanding of how decisions get so easily derailed, and advice on how to stick to well-thought out plans. A truly entertaining journey that will keep you turning pages through the very end.
—Susan Cain, author, Quiet: The Power of Introverts in a World That Can't Stop Talking

About the Author
Francesca Gino
is Associate Professor of Business Administration in the Negotiation, Organizations, & Markets Unit at the Harvard Business School. Her research focuses on judgment and decision making, social influence, and ethics and creativity. Her studies have been featured on CNN and NPR, as well as in leading print publications including Economist, Financial Times, New York Times, Newsweek, Scientific American, and Psychology Today. In 2009, the New York Times featured Gino's research in The 9th Annual Year in Ideas.